The Scientific Committee on Antarctic Research Expert Group on Birds and Marine Mammals (SCAR-EGBAMM) will hold meetings at Polar 2018 (at the time of the biennial Open Science Conference of SCAR, being held jointly with the International Arctic Science Committee) in Davos, Switzerland this month.
On 15 June a workshop on the theme "Polar wildlife – connecting ecology, health and disease issues in a changing world" will be held.
"The aim of this workshop is to identify key scientific knowledge gaps in wildlife health and disease and to foster new research initiatives and collaborations at the interface between ecology and diseases in Polar Regions, (Arctic, Antarctic and sub-Antarctic). We will discuss the importance of including parasites and disease issues in biodiversity observatory networks in polar areas. The implications of some wildlife diseases for human populations in polar areas will also be addressed. Twenty years ago the first workshop about wildlife diseases in Antarctic provided several recommendations on research and monitoring needs. Main outputs of this workshop will include updating the recommendations from the 1998 Antarctic wildlife disease workshop, discussion of protocols for wildlife disease and health surveillance in both Arctic and Antarctic, and identification of major research and monitoring gaps for wildlife health in both regions."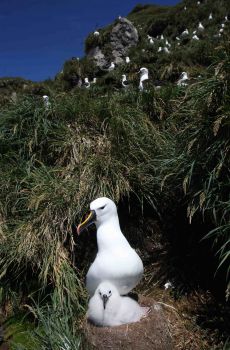 Indian Yellow-nosed Albatross - susceptible to disease on Amsterdam Island, photograph by Peter Ryan
SCAR-EGBAMM will also hold a meeting on 16 June in the Congress Centre at Davos. An open discussion on potential new directions for EG-BAMM is planned.
With thanks to Yan Ropert-Coudert, SCAR-EGBAMM Secretary.
John Cooper, ACAP Information Officer, 06 June 2018