Manuel Marin (Feather Link Inc., Cincinnati, Ohio, U.S.A.) has published in the open-access journal Marine Ornithology on aspects of Southern Giant Petrels Macronectes giganteus in Chile.
The paper's abstract follows:
Here I review the current knowledge of the breeding status of the Southern Giant Petrel Macronectes giganteus in Chile and provide new data on the population at Isla Noir in the Región de Magallanes. Breeding numbers on Isla Noir are approximately six times greater than previously reported for the entire country, including all offshore islands except for the Diego Ramirez Archipelago, for which information is sparse. Here, I also describe the nests and eggs of this species found in Isla Noir, as well as feeding behavior, including consumption of carrion but also active hunting in penguin colonies. Only the Southern Giant Petrel, and not the Northern Giant Petrel M. halli, has been seen within Chilean fiords and nearshore waters.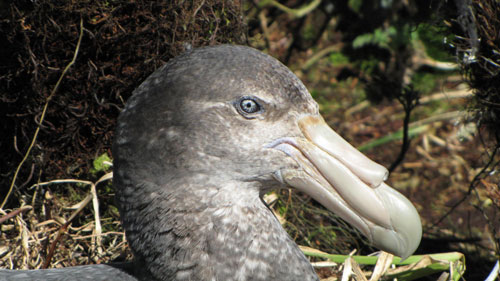 Southern Giant Petrel, photograph by John Cooper
Reference:
Marin, M. 2018. Breeding of the Southern Giant Petrel Macronectes giganteus in southern Chile. Marine Ornithology 46: 57-60.
John Cooper, ACAP Information Officer, 04 April 2018