This season's hand-reared Chatham Albatrosses Thalassarche eremita, translocated as chicks from the Pyramid, sole breeding site for the species, have commenced fledging from the Point Gap translocation site on New Zealand's Chatham Islands. During a windy period (view video) this week, the first four fledglings have left for the coastal waters of Chile (where a hand-reared bird from a previous season has been identified by its colour band - click here).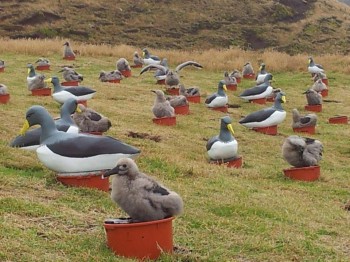 Translocated chicks on their bucket nests among adult decoys at Point Gap
The attempt to create a second breeding colony at Point Gap for the globally Vulnerable species is being led by the NGO Chatham Island Taiko Trust. The current group of 60 chicks is the fifth and last cohort to be hand-reared, bringing the total number translocated over the five years of the project to 282 (click here).
Decoys and a sound system will be left in place at Point Gap to help attract albatrosses to the site - which will be monitored for returning hand-reared as well as for wild birds. Visits to the Pyramid will also be made to look for any translocated birds that might have returned there instead.
Access ALN earlier postings on the translocation exercise here.
With thanks to Dave Boyle, Chatham Island Taiko Trust.
John Cooper, ACAP Information Officer, 03 April 2018