Pacific Rim Conservation reports on its Facebook page that a record 106 Near Threatened Laysan Albatross Phoebastria immutabilis pairs commenced breeding within the predator-proof fence at the Kaena Point Natural Area Reserve on the Hawaiian island of Oahu this year. A total of 89 chicks has hatched out of which 68 "are still going strong".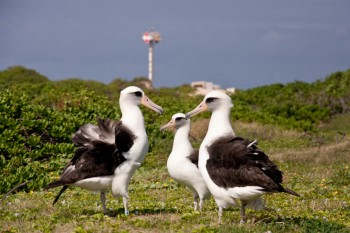 Laysan Albatross gather at Kaena Point, photograph by Lindsay Young
Meanwhile the Hawaiian NGO aims to add two more species to its translocation efforts: Bonin Petrels Pterodroma hypoleuca (Least Concern) and Near Threatened Tristram's Storm Petrels Hydrobates tristrami are planned to be translocated from low-lying Tern Island, French Frigate Shoals to higher ground on Oahu later this year (click here). ACAP Latest News will report!
John Cooper, ACAP Information Officer, 19 March 2018