The UK's Royal Society for the Protection of Birds (RSPB) is once again advertising three field assistant positions to work on World Heritage Gough Island in the central South Atlantic Ocean for 13 months over 2018/19, with a training period prior to departure.
The three contract positions are designed to conduct annual monitoring of breeding seabirds (including five albatross and petrel species listed by ACAP) and to control the invasive plant Procumbent Pearlwort Sagina procumbens for which rope access training will be given. The field assistants will also give support to the House Mouse eradication operation planned to take place next year as part of the Gough Island Restoration Programme.
The seabird monitoring positions are responsible for annual monitoring of breeding success, survival, population counts, and other field work for 14 breeding species. The Sagina position is responsible for work eradicating Sagina on the coastal cliffs adjacent to the South African weather station on Gough Island.
The candidates will be joining and living with the South African National Antarctic Programme (SANAP) over-wintering team of usually six people, and will also be required to work within the requirements of SANAP's over-wintering teams, contributing to domestic duties, etc..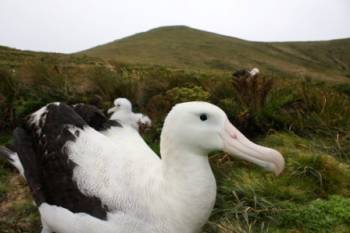 Critically Endangered Tristan Albatrosses on Gough Island are at risk to attacks on their chicks by House Mice, photograph by Kalinka Rexer-Huber
Read details of the vacancies and how to apply for the senior field assistant and field assistant posts.
The deadline for submissions is 6 April 2018.
John Cooper, ACAP Information Officer, 16 March 2018