It's all on the go with the hands-on management of globally Near Threatened Laysan Albatrosses Phoebastria immutabilis on the Hawaiian islands of Kauai and Oahu. Last month, as has been happening for the last 12 years, eggs were collected from the US Navy's Pacific Missile Range Facility on Kauai. The breeding birds are a risk to flight operations at the facility, but rather than just destroying their eggs those deemed fertile by candling (click here) are fostered out to Laysans elsewhere on the island that have infertile eggs (often because both members of a pair are females). For this breeding season the Pacific Missile Range Facility at Barking Sands delivered fertile eggs to 22 Laysan Albatross nests on three private properties on Kauai.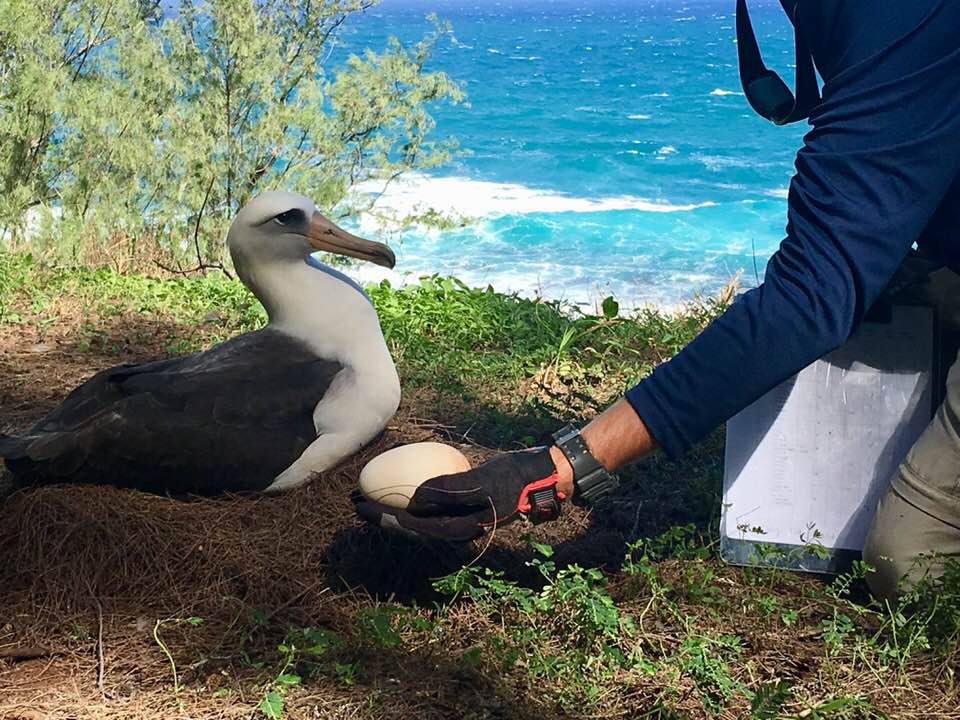 A Laysan Albatross receives a fertile egg on the island of Kauai, photograph by Hob Osterlund
View a video clip of a bird receiving its new egg on Kauai.
But this left a number of collected eggs with no suitable nests for fostering on the island. In the last three years these surplus eggs have taken a short flight by aeroplane to Oahu where the NGO Pacific Rim Conservation has artificially incubated them and then after hatching hand-reared the chicks in the James Campbell National Wildlife Refuge, in an endeavour to create a new colony (click here)
This season a different tack has been taken as Pacific Rim Conservation reports by Facebook. "Every year there are more eggs than foster nests on Kauai, and this year instead of hand-raising these chicks at James Campbell, they were given to foster parents at Kaena Point [Natural Area Reserve] to bolster that population." Twenty-one eggs have been fostered, meaning that over 40 eggs have been saved from destruction.
Read more here.
Meanwhile the Laysan Albatrosses in the Kaena Point Natural Area Reserve are doing just fine with a record 105 eggs laid this breeding season, as reported to ACAP Latest News by Lindsay Young of Pacific Rim Conservation. "A lot of [banded] birds born in 2009 and 2010 (both large cohorts) are breeding for the first time this year which is why there has been such a bump in the numbers."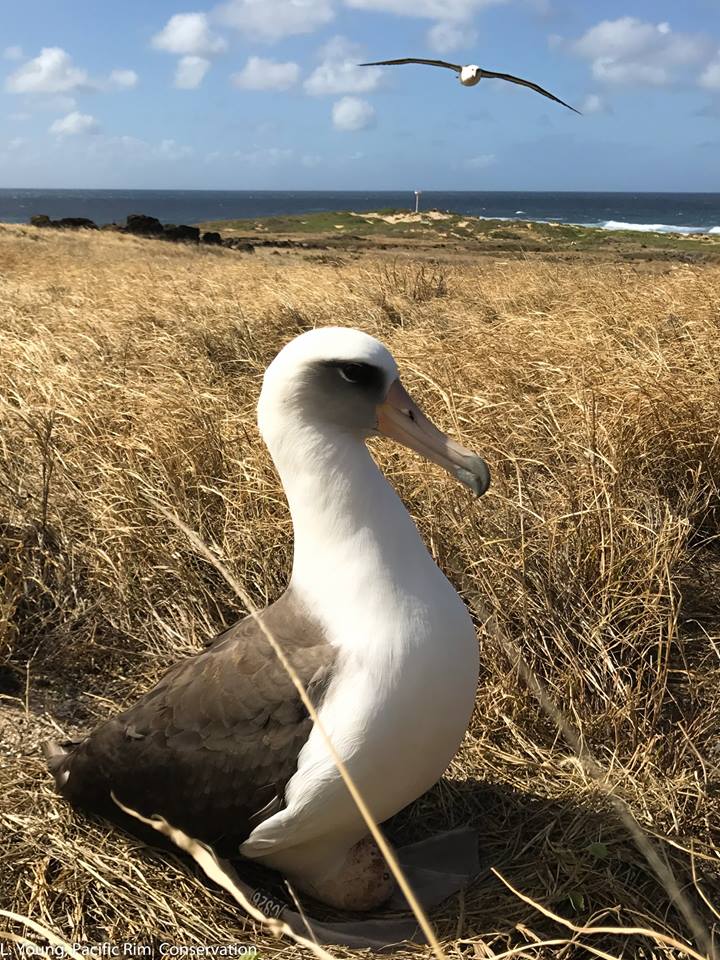 100th breeding attempt at Kaena Point in the 2017/18 season, photograph by Lindsay Young
With thanks to Hob Osterlund (Kauai Albatross Network) and Lindsay Young (Pacific Rim Conservation) for information and photographs. The egg transfer project is supported by the Hawaii Department of Land and Natural Resources and the U.S. Navy.
John Cooper, ACAP Information Officer, 02 January 2018