Last month Karen Baird from BirdLife International based in New Zealand organised the fourth in a series of seabird identification courses which began in 2011 for international fisheries scientists involved in managing seabird bycatch issues in their respective countries. As the 'Seabird Capital of the World' and a having a high level of expertise in seabirds, New Zealand is an ideal place to hold such a course.
'Biz' Bell (Wildlife Management International) and Igor Debski (Department of Conservation) combined with Karen to run a week-long course for three scientists from Indonesia and Taiwan earlier this month. The three visiting scientists had hands-on experience under the expert guidance of Biz who confirms observer seabird identifications and undertakes necropsies of dead birds returned from vessels fishing in New Zealand waters. A wide range of information is gathered which will assist in understanding the factors which contribute to bycatch. In addition, samples are taken for analysis by other scientists who study plastic ingestion by seabirds.
The scientists also discussed their various observer programmes and the type of data that are gathered and exchanged ideas on ways for improvements.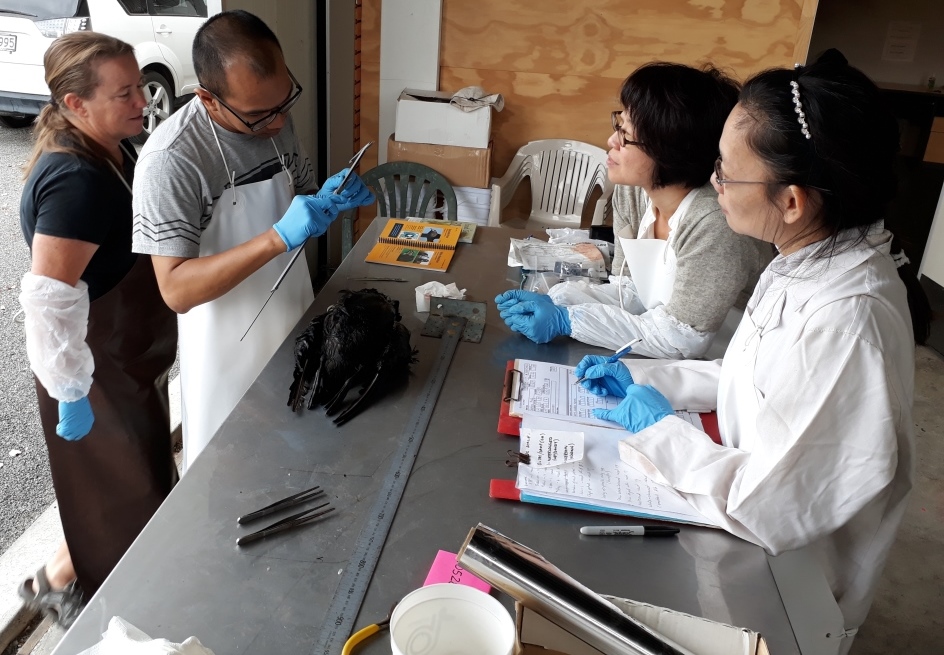 Biz Bell (left) looks on as Prawira Tampubolon measures a Procellaria Petrel. Julia Hwang and Yu-min Yeh (right) watch and record the bird's statistics
The highlight of the course was a day out to sea from Kaikoura with Albatross Encounter where Julia Hwang and Yu-Min Yeh from Taiwan saw live albatrosses and petrels for the first time in their lives. Julia said that she had been analysing observer data from Taiwanese vessels for 10 years but this was the first time she had ever seen a live albatross.
We were lucky enough to see two species of great albatrosses on the outing, Antipodes Diomedea antipodensis gibsoni and Northern Royal D. sanfordi, as well as the smaller mollymawk Salvin's Thalassarche salvini and White-capped T. steadi Albatrosses, both highly bycaught by New Zealand fisheries. Another lucky encounter was to see all three of New Zealand's Procellaria petrels: Westland P. westlandica, Black P. parkinsoni and White-chinned P. aequinoctialis, which can be difficult to tell apart. Julia Hwang, Yu-min Yeh from Taiwan and Prawira Tampubolon from Indonesia thoroughly enjoyed the opportunity to see live seabirds at sea.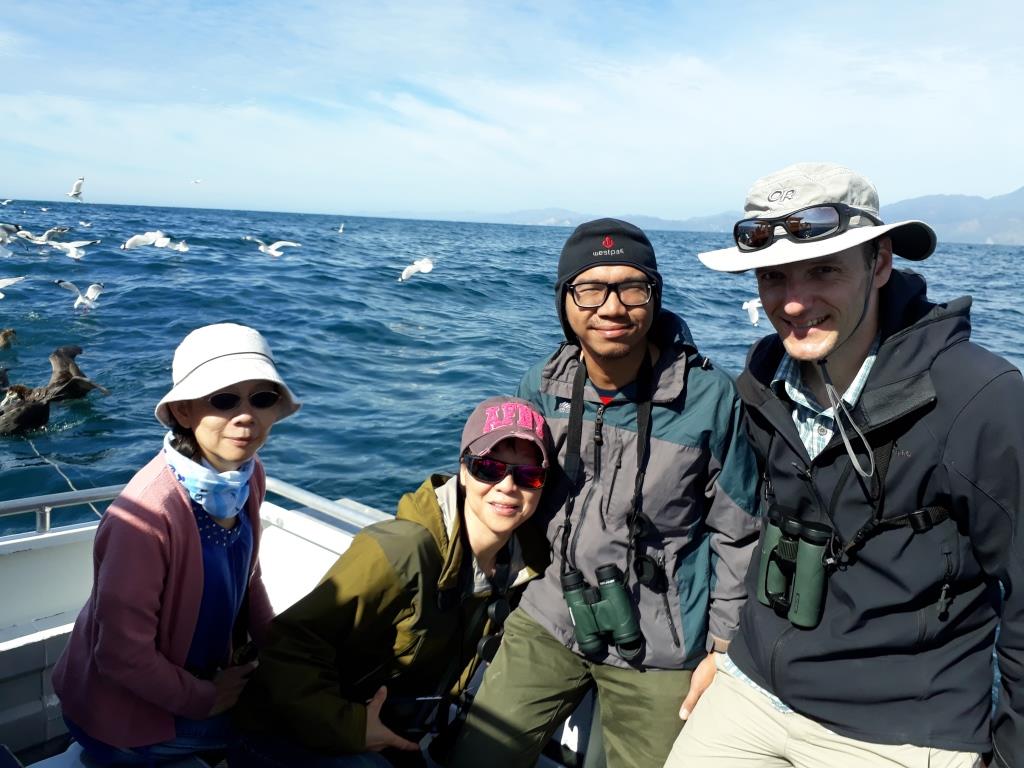 Julia Hwang, Yu-min Yeh and Prawira Tampubolon at sea off Kaikoura with Igor Debski (right)
Karen Baird, BirdLife International, New Zealand, 27 December 2017