Northern Royal Albatrosses Diomedea sanfordi (globally Endangered and nationally Naturally Uncommon) at Taiaroa Head on New Zealand's South Island have commenced their new breeding season. So far a 141 colour-banded adults have been clocked in to the mainland colony at the end of the Otago Peninsula. Thirty eggs have been laid to date, two of which are currently in an incubator with the potential to foster them out to good parents later on. Seven eggs were candled to see if they were fertile this week, with five confirmed as viable. The other two eggs were too early in their development to tell.
"In November we hope for some more nests and then December will see our 'teenage' birds around - some of whom it will be their first time touching land again in 5 years!"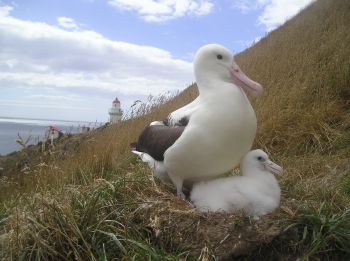 A Northern Royal Albatross stands guard over its downy chick at Taiaroa Head, photograph by Lyndon Perriman
In the previous (2016/17) breeding season 23 chicks fledged out of 38 eggs laid by 36 pairs (two of the 36 breeding attempts were by female-female pairs which laid a total of four eggs.
The live-streaming "Royal Cam" will soon be back in operation over the new season: "Regarding the webcam, at this stage we plan on leaving it in its current location but re-positioning it so it will point at the GO/WO nest. We will zoom in to give a better view of nest activity there. We will do this right away so the camera will be turned off for a wee bit today while we carry this out. As mentioned last week, we are just waiting for the birds to settle on their nests before we change the camera's location to give the up-close view of past seasons. Each time we change the location of a camera or work on a camera it disturbs the birds so we try to minimise this as much as possible."
John Cooper, ACAP Information Officer, 16 November 20