Registration, abstract submission, and travel award applications for the 2018 Annual Meeting of the Pacific Seabird Group (PSG) are now open.
The Meeting, the PSG's 45th, will be held at the at the Universidad Autónoma de Baja California Sur in La Paz, Mexico over 21-24 February 2018. The locality is at the entrance to the Gulf of California.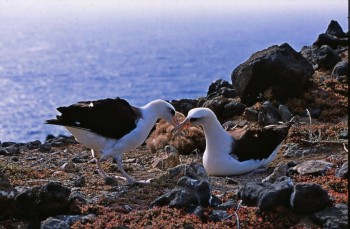 Laysan Albatross pair on Mexico's Guadalupe Island, photograph by Ross Wanless
There will be oral and poster sessions (themes: Behaviour, Breeding Biology, Climate Change, Conservation Biology, Contaminants & Marine Debris, Fisheries, Foraging Ecology, Genetics, Management,Policy, and/or Planning, Non-breeding Biology, Physiology, Population Biology, Tools & Techniques, and Tracking & Distribution) along with plenary speakers as is usual at PSG annual meetings. Excursions into the gulf will view whales and whale sharks.
A Special Paper Session is planned on seabird restoration to be convened by Yuliana Bedoya. The session description follows:
"Seabird populations around the world have declined due to different threats such as invasive alien species, contaminants, oil spills, bycatch, fisheries, climate change, and ocean acidification. Conventional restoration actions –the eradication of invasive mammals, habitat restoration- alone are inadequate to effectively restore seabird colonies that were extirpated or decimated. Increasingly, restoration projects in the Pacific Ocean are supplemented with active seabird restoration to ensure the recolonization and recovery of breeding colonies. This special paper session will present a wide variety of ambitious projects that currently employ novel techniques to restore seabird populations (social attraction techniques, translocation). Papers will include case studies from the Channel Islands, Hawaiian Islands, Mexican Pacific islands, and others. Talks will present different methods, recent success histories, and the adaptive management to succeed. The seabird restoration projects can be used as models for future projects. The session will conclude with a roundtable group discussion."
Read more on PSG2018.
John Cooper, ACAP Information Officer, 28 September 2017