ACAP Latest News has previously reported that introduced House Mice Mus musculus have taken to attacking and causing the deaths of incubating Laysan Phoebastria immutabilis and Black-footed P. nigripes Albatrosses on Midway Island in the North Pacific (click here). Planning has now commenced towards their eventual eradication as reported in an article by Meg Duhr-Schultz in the latest issue of Gooney Gazette II, the newsletter of the Friends of Midway Atoll National Wildlife Reserve (FOMA)
An extract from the article follows.
"Last winter, Refuge staff and volunteers discovered that invasive House Mice (Mus musculus) were attacking nesting albatrosses on Sand Island. Our monitoring revealed that a minimum of 480 nests had bitten birds and at least 70 nests were abandoned following a mouse attack to one of the parents. Nearly 50 Laysan albatrosses died due to mouse attacks. Working with veterinarians at the USGS National Wildlife Health Center lab in Honolulu to recover and study many of these carcasses, we found that the birds died of infections that stemmed from the bite wounds. Mortality of breeding adult albatrosses is a major concern for USFWS and eradicating House Mice has become a high priority. We recently secured grant funding to support an eradication feasibility study and in October, a team of rodent eradication experts from the non-profit group Island Conservation arrived to Midway Atoll NWR to initiate the study. The first of several site visits, the group worked with us to understand the social, biological, and abiotic factors that would influence the operations and potential success of a mouse eradication. The team found that eradicating mice, though it will be costly, challenging, and complex, is indeed feasible. Currently, the Refuge is taking proactive steps to begin the intensive permitting and regulatory work involved with a rodent eradication, as well as formulating plans for mitigating impacts to non-target species."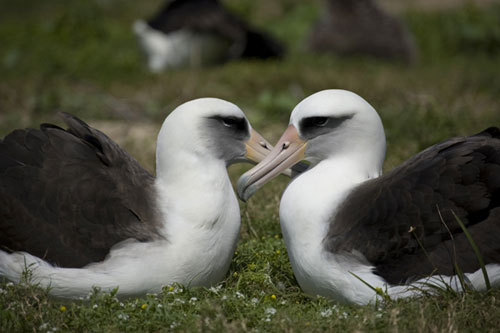 Laysan Albatross pair, photograph by James Lloyd
Reference:
Duhr-Schultz, M. 2016. From the field. Updates from the Refuge Biology Program. Gooney Gazette II Winter 2016/2017. pp. 8-9.
John Cooper, ACAP Information Officer, 13 December 2016