The latest issue (No. 28 November 2016) of Project News, the Newsletter of the South Georgia Habitat Restoration Project is now available. For the last half a decade ACAP Latest News has been reporting regularly on the efforts to rid South Georgia (Islas Georgias del Sur)* of its introduced rats and mice (click here). The three-phased eradication exercise was completed two austral summers ago and now the task this summer as Phase Four is to assess whether all the rodents are finally gone.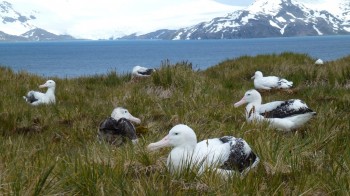 South Georgia looms behind an offshore island, photograph by Sally Poncet
So far no signs of rodents have been seen since the last poison bait drop in March 2015 and reports are now regular on the return to the island of affected birds, such as the endemic South Georgia Pipit Anthus antarcticus and Wilson's Storm Petrel Oceanites oceanicus, as reported by Project Director, Tony Martin in the South Georgia Heritage Trust's Project News.
Three New Zealand-trained detection terriers, along with their two handlers, will travel to the island to sniff out rodent sign this summer. Tony writes "the ultimate rodent detection device is a moist nose on the front end of a highly trained dog". Let's hope the dogs will find nothing and the World's largest island eradication project can be finally proclaimed a success.
John Cooper, ACAP Information Officer, 16 November 2016
*A dispute exists between the Governments of Argentina and the United Kingdom of Great Britain and Northern Ireland concerning sovereignty over the Falkland Islands (Islas Malvinas), South Georgia and the South Sandwich Islands (Islas Georgias del Sur y Islas Sandwich del Sur) and the surrounding maritime areas.