United States President Barack Obama (aka POTUS) last week expanded the Papahānaumokuākea Marine National Monument around the North-western Hawaiian Islands to 1 508 870 km2, increasing the original monument by more than 1.15 million square kilometres (click here).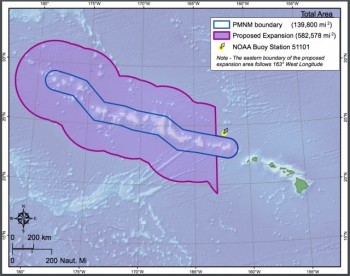 The expanded MPA, reaching out 200 nautical miles to the edge of the country's Exclusive Economic Zone (EEZ) west of 163°W, is now the largest in the Word, larger than the three other "million plusser" MPAs in existence: the USA's Pacific Remote Islands Marine National Monument at 1 271 500 km² expanded by President Obama in 2014, France's Natural Park of the Coral Sea (1 292 967 km²; declared in 2012) and the disputed* South Georgia Marine Protected Area (1 070 000 km²; declared in 2012).
It offers enhanced protection to the islands' ACAP-listed Black-footed Phoebastria nigripes and Laysan P. immutabilis Albatrosses, as well as much other terrestrial and marine biota. Commercial fishing (such as pelagic longlining for tuna which can result in the bycatch of albatrosses) is not allowed within the expanded MPA, although non-commercial fishing by permit "provided that the fish harvested, either in whole or in part, cannot enter commerce through sale, barter, or trade, and that the resource is managed sustainably" is.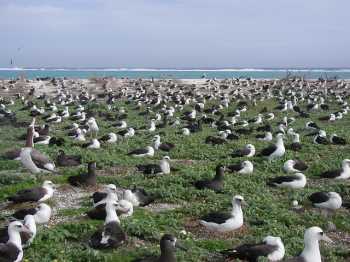 Black-footed and Laysan Albatrosses congregate to breed within the Papahānaumokuākea Marine National Monument
Read the official proclamation text and accompanying fact sheet.
"Following this historic conservation action, the President will travel to Hawaii next week. On Wednesday evening, he will address leaders from the Pacific Island Conference of Leaders and the IUCN World Conservation Congress, which is being hosted in the United States for the first time. On Thursday, he will travel to Midway Atoll, located within the Papahānaumokuākea Marine National Monument, to mark the significance of this monument designation and highlight first-hand how the threat of climate change makes protecting our public lands and waters more important than ever."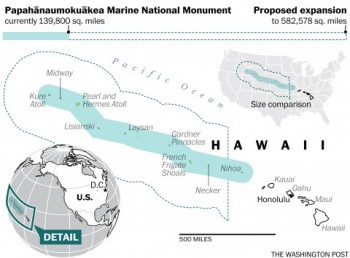 "Papahānaumokuākea is globally recognized for its biological and cultural significance, being the only mixed UNESCO World Heritage site in the United States and only one of 35 mixed sites in the world. Its long list of protections includes designation as a Particularly Sensitive Sea Area by the International Maritime Organization. See full list of protections here."
Read press articles on the MPA expansion here and here.
Read more here on very large Marine Protected Areas.
John Cooper, ACAP Information Officer, 29 August 2016
*A dispute exists between the Governments of Argentina and the United Kingdom of Great Britain and Northern Ireland concerning sovereignty over the Falkland Islands (Islas Malvinas), South Georgia and the South Sandwich Islands (Islas Georgias del Sur y Islas Sandwich del Sur) and the surrounding maritime areas.