The Seabird Group will hold its 13th International Conference in Edinburgh, Scotland over 6-9 September 2016. Titles and authors of talks and posters are now available on line.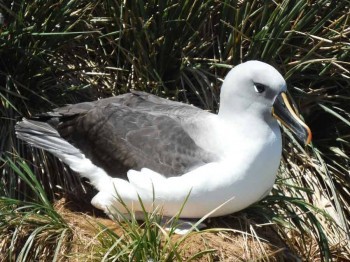 Great-headed Albatross, photograph by Mickey Reeves
A list of presentations (plenaries, orals and posters) dealing with aspects of the biology and conservation of procellariiform birds follows.
Tony Martin: Invasive alien species on seabird islands: problems and solutions
Rob Thomas: A Long-Term Study of Migrating European Storm Petrels
Ingrid Pollet: What factors influence breeding success of Leach's Storm-Petrels?
Nicky McArthur: A New Zealand conservation story of a globally unique seabird, Kaikoura's Titi, the Hutton's shearwater
Steffen Oppel: Using globally threatened pelagic birds to identify priority sites for marine conservation in the South Atlantic Ocean
Paulo Catry: Dancing in the moonlight: effects of light regime on seabird activity patterns
Nina Dehnhard: Soaring with the wind? Foraging behaviour of sympatric Antarctic fulmarine petrels in East Antarctica in relation to habitat characteristics
Agnes Olin: Effects of changing environmental conditions and intrinsic variation on the breeding success of northern fulmars
Deborah Pardo: Demographic buffering in declining populations: can pre and non-breeders save the greyheaded albatross?
Dimas Gianuca: Influence of allochrony on the population trajectories of northern and southern giant petrels
Matt Wood: Climatic variation and demography of Manx shearwaters in the Irish Sea
Saskia Wischnewski: Exceptionally large foraging ranges in provisioning Manx Shearwaters (Puffinus puffinus): A triple foraging strategy facilitated by environmental variables?
Martin Berg: Have ecosystem changes altered the trophic niche of the fluttering shearwater (Puffinus gavia)? - A 134-year stable isotope record from feathers and prey collected in the Hauraki Gulf, New Zealand
Bernard Cadiou: New data about the secret life of the wandering prebreeding European storm petrels at colonies
Dimas Gianuca: Comparative trials of Lumo Leads and traditional line weighting in the Brazilian pelagic longline fishery
Dilek Sahin: High migration counts in Turkey suggest the existance [sic] of undiscovered colonies of the Yelkouan shearwater
John Cooper, ACAP Information Officer, 19 August 2016