The Prime Minister of New Zealand, the Rt Hon John Key has made a speech that makes a commitment for a predator-free New Zealand by 2050 (click here).
Speaking at the Zealandia wildlife sanctuary in Wellington this Monday, the Prime Minister announced "we have adopted the goal of a Predator Free New Zealand. By 2050 every single part of New Zealand will be completely free of rats, stoats and possums. This is the most ambitious conservation project attempted anywhere in the world, but we believe if we all work together as a country we can achieve it." He added "the Crown will initially invest [New Zealand Dollar] $28 million over four years to establish a new joint venture company called Predator Free New Zealand Ltd to drive the programme, alongside the private sector."
The Prime Minister, who was accompanied by Conservation Minister Maggie Barry and other ministers, went on to announce that the Predator Free New Zealand project will see all introduced [mammalian] predators eradicated from all offshore island nature reserves by 2025. With New Zealand's sub-Antarctic Campbell Island long free of cats and rats, and the bait drop to eradicate mice on Antipodes Island successfully completed this month, attention will presumably now turn to removing the feral cats Felis catus and pigs Sus scrofa and introduced House Mice Mus musculus on Auckland Island, thus helping its populations of Near Threatened and ACAP-listed White-capped Albatrosses Thalassarche steadi and other seabirds. This suggests that all of New Zealand's southern island reserves will be introduced-predator free within a decade from now.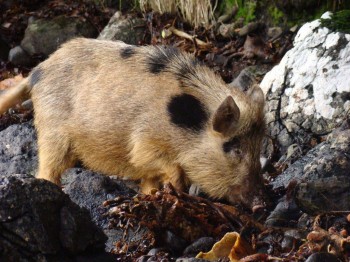 A feral pig on Auckland Island: to be gone by 2025? Photograph by Pete McClelland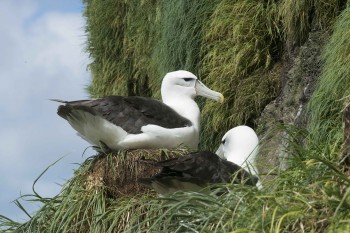 At risk to pigs: White-capped Albatrosses breeding at South West Cape, Auckland Island, photograph by Barry Baker
Auckland Island falls within the Auckland Islands National Nature Reserve and is part of New Zealand Sub-Antarctic Islands World Heritage Site inscribed in 1998.
Read more about Predator Free New Zealand Ltd here.
Read press coverage on the Prime Minister's announcement.
https://www.theguardian.com/world/2016/jul/25/no-more-rats-new-zealand-to-exterminate-all-introduced-predators
John Cooper, ACAP Information Officer, 27 July 2016