At the Ninth Meeting of ACAP's Advisory Committee (AC9) held in La Serena, Chile in May this year it was agreed to host a Pterodroma Workshop at the time of the Tenth Meeting of the Advisory Committee, due to be held in New Zealand next year around late August / early September. The workshop will consider the conservation status of gadfly petrels in the genus Pterodroma along with other small burrowing petrel species (e.g. in the genera Aphodroma, Bulweria and Pseudobulweria).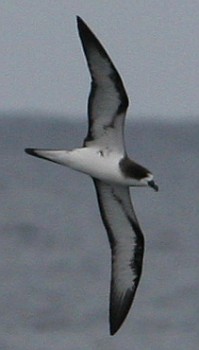 Critically Endangered Galapagos Petrel Pterodroma phaeopygia, photograph by Eric Vandwerrf
The following text is taken from the AC9 report from the section on Listing of New Species (pp. 18-19):
"The Committee recognised many species of the genus Pterodroma face significant threats to their conservation, and some of these are already identified by the Agreement as species of concern (AC3 Doc 18, MoP5 Doc 21 and SBWG7 Doc 25). There are also other small burrowing petrels that share a number of the same conservation characteristics as Pterodroma species. The Committee noted there are ongoing discussions internationally about appropriate modalities for the conservation of these species including under the Agreement, CMS [Convention on Migratory Species] and in BirdLife International's 'Pterodroma Interest Group', and at least eight Parties to the Agreement have breeding populations of Pterodroma species.
The Committee decided that there was merit in convening a one-day workshop involving interested Parties to the Agreement, and inviting others with an interest in the conservation of these species. The workshop would be held in association with the Tenth Meeting of the Advisory Committee and its Working Groups in 2017.
The workshop's objective is to advance understanding about best approaches for international cooperation in the conservation of Pterodroma and other small burrowing petrel species. The workshop would:
1. share information about current understanding of conservation threats to Pterodroma and other small burrowing petrel species, whether on land, at-sea, or generalised in nature;
2. consider whether and to what extent international cooperation would assist in addressing these threats;
3. as relevant, consider modalities for international cooperation; and
4. prepare a report and recommendations for consideration at the Sixth Session of the Meeting of the Parties to the Agreement in 2018.
The Committee agreed that the Secretariat should take appropriate steps to advertise the scope, timing and venue for the workshop. A small contact group including Australia, Brazil, Ecuador, New Zealand and UK would assist in the preparations for this workshop."
John Cooper, ACAP Information Officer, 07 July 2016