Kerry-Jayne Wilson of the West Coast Penguin Trust has produced a 46-page review of the biology of and threats facing the Vulnerable and ACAP-listed Westland Petrel Procellaria westlandica, a New Zealand endemic.
The report's three-and-a-half page Executive Summary states inter alia "[v]irtually nothing is known about bycatch of Westland petrels while in South American seas and this is potentially the most serious threat to the species. Documenting bycatch in South America is the highest priority research recommendation and steps to mitigate South American bycatch are the highest priority management recommendations to come out of this report."
The report also discusses land-based threats, notably light pollution, for this mainland-breeding species.
The review was funded by the Brian Mason Scientific & Technical Trust.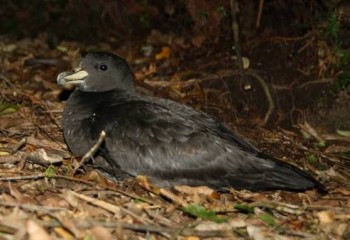 Westland Petrel, photograph by Susan Waugh
With thanks to Kerry-Jayne Wilson.
Reference:
Wilson, K.-J. 2016. A review of the biology and ecology and an evaluation of threats to the Westland petrel Procellaria westlandica. Charleston: West Coast Penguin Trust. 46 pp.
John Cooper, ACAP Information Officer, 16 June 2016