New Zealand supports two endemic species of Procellaria petrels, both listed within the Albatross and Petrel Agreement. The two species are monitored annually and various efforts take place to help with their conservation, notably in relation to light pollution affecting fledglings, predation by introduced mammals and engagement with the public. Recent news are reported below.
Black Petrel Procellaria parkinsoni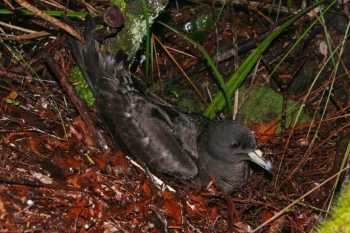 Black Petrel at its breeding site on Great Barrier Island, photograph by Dave Boyle
The ACAP-listed Black Petrels on Great Barrier Island are reported by Wildlife Management International as having a good breeding season this year. During a recent trip to the Mount Hobson/Hirakimata colony 271 occupied burrows were found within the area monitored each year. This total included 200 pairs incubating eggs and a further 64 pairs that had already hatched chicks.
Westland Petrel Procellaria westlandica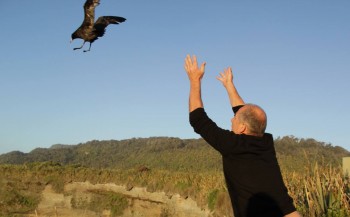 Releasing a downed Westland Petrel (click here), photograph courtesy of Petrel Colony Tours
In New Zealand's South Island preparations are underway for the next Return of the Westland Petrel Festival, to be held over the weekend 29 April – 1 May. The Westland Petrel is also ACAP-listed and breeds only in the foothills of the Paparoa Mountain Ranges at Punakaiki on South Island. Latest news from Petrel Colony Tours is that the "Westland Petrel's 2016 breeding season is now seriously underway as more and more birds return. It won't be until later this month [April] before they're all back, but there's already enough for visitors to get good views. Something new for visitors is [a] window into life in a nest chamber - once a natural hole that left the chick vulnerable to predators - which makes it easy to view what's going on inside."

Festival events include an evening parade ending in looking out for returning petrels flying inland after dusk, tree planting, a market with food and local arts and crafts stalls and musical entertainment.
John Cooper, ACAP Information Officer, 19 April 2016