Registration is now open for the Scientific Committee on Antarctic Research (SCAR) 2016 Open Science Conference. The conference will be held in Kuala Lumpur, Malaysia over 22-26 August 2016. Its focus is on Antarctica in the Global Earth System: from the Poles to the Tropics and how the changes that we are currently seeing in Antarctica will affect the rest of the world.
Early bird registration is available at a reduced rate until 5 May.
Read about sessions of relevance to the Albatross and Petrel Agreement here.
Abstracts are due by 14 February and early submission is encouraged. The conference programme, including sessions and descriptions, is available on the conference website.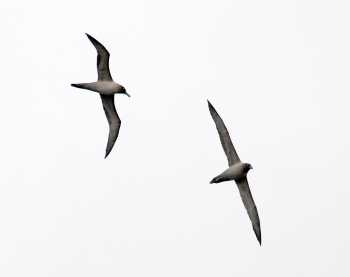 Light-mantled Sooty Albatrosses in Antarctic waters, photograph by John Chardine
The SCAR Conference is sponsored by the Ministry of Science, Technology and Innovation, Malaysia together with the Sultan Mizan Antarctic Research Foundation and the National Antarctic Research Centre, together with SCAR.
John Cooper, ACAP Information Officer, 20 January 2016