Short-tailed Albatrosses Phoebastria albatrus have successfully hatched an egg for the first time on the island of Mukojima in the Ogasawara Islands. Researchers discovered the chick when they visited the island on 9 January this year. It appeared to have hatched out five to 10 days earlier (click here).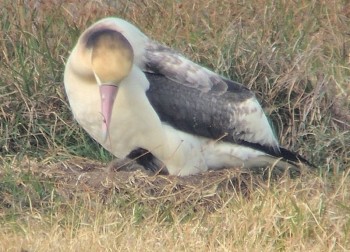 Mukojima's first Short-tailed Albatross chick gets some attention, photograph by the Yamashina Institute for Ornithology
Two previous breeding attempts on the island, it appears by the same pair, have failed due to the eggs laid being infertile.
There are two main breeding localities for Short-tailed Albatrosses: the volcanic island of Torishima in the Japanese Izu Islands, where there are a total of around 3900 birds, as well as around 200 birds in the disputed Senkaku Islands. The Japanese Environment Ministry anlong with the Yamashina Institute for Ornithology moved 70 chicks from Torishima to Mukojima for hand rearing until fledging over the five-year period 2007-2011. Around 10 of these translocated birds on Mukojima have returned after fledging, raising hopes they would commence to breed on the island. The parents of the 2016 chick are a translocated male from the 2008 translocated cohort and a female that is believed to have fledged from the Senkaku Islands.
"If more than 10 pairs of the birds can successfully hatch an egg, we will be able to regard (Mukojima) as a stable breeding location," commented Kiyoaki Ozaki, who works with the Yamashina Institute for Ornithology.
A single pair (of which the female was translocated to Mukojima in 2009) had bred on nearby Nakodojima Island in the last two years (click here).
View a video clip of the Mukojima hatchling.
John Cooper, ACAP Information Officer, 18 January 2016