Water is planned to be trucked to Taiaroa Head on New Zealand's Otago Peninsula to help its Endangered Northern Royal Albatross Diomedea sanfordi chicks survive the high temperatures expected from the current El Niño weather conditions.
The Otago Peninsula Trust is raising funds to truck in additional water for a recently-installed irrigation system used to spray nests to cool the birds down so they do not overheat.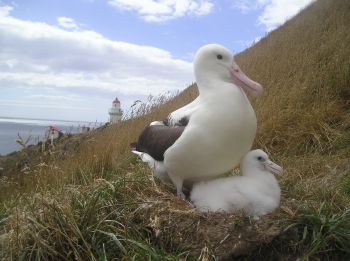 Northern Royal Albatross and chick at Taiaroa Head, photograph by Lyndon Perriman
Staff and volunteers at the Royal Albatross Centre anticipate the first chick of the season to hatch out this week. Last year there were 26 chicks — the second best season —at Taiaroa Head, this year 29 fertile eggs are being incubated.
Read more here.
For an earlier ACAP Latest News item on hot albatrosses click here.
John Cooper, ACAP Information Officer, 13 January 2015