The 106-ha island of Skokholm lies off the coast of Pembrokeshire in Wales. It first operated as a bird observatory in 1933, and is currently owned and administered by The Wildlife Trust of South and West Wales.
The observatory's seabird report for 2015 is now available. It gives detailed information of ongoing monitoring of the island's breeding populations of Manx Shearwaters Puffinus puffinus (the World's third largest), Arctic Fulmars Fulmarus glacialis and European Storm Petrels Hydrobates pelagicus.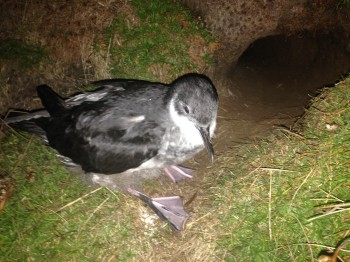 Manx Shearwater chick approaching fledging, photograph by Jaclyn Pearson
Skokholm is a Site of Special Scientific Interest. The surrounding waters are a marine reserve and together form part of the Pembrokeshire Coast National Park. The island became a national nature reserve in December 2008. Along with the nearby island of Skomer the island is an Important Bird Area designated by BirdLife International.
Reference:
[Anon 2015]. Skokholm Bird Observatory Seabird Report 2015. [Bridgend]: The Wildlife Trust of South and West Wales. 50 pp.
John Cooper, ACAP Information Officer, 07 January 2016