BirdLife International's Marine Programme has produced an eight-minute video with a sound track in Taiwanese that is addressed to skippers and crew of longline vessels, highlighting the issue of seabird bycatch and describing the simple and effective measures that can be taken to minimise fishing impacts on seabird populations.
According to BirdLife, Taiwan has over 300 large-scale and 1000 small-scale tuna longline vessels, making it one of the world leaders in longline fishing.
Mayumi Sato, BirdLife Marine Programme Asia Coordinator states:
"So far we have had a very positive engagement with the Taiwanese Fisheries Agency and industry groups on seabird bycatch. Videos such as this help us and our partners explain both the threats and solutions directly to fishers and fisheries officials. We hope that we can continue to expand our work with Taiwanese fleets to increase the uptake of seabird mitigation measures and work collaboratively to save albatrosses."
The video has also been produced in English, with more language versions planned.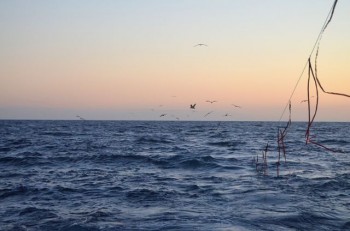 A bird-scaring line deployed with streamers flapping, photograph by Vero Cortes
BirdLife received funding from the International Seafood Sustainability Foundation towards the making of the video. Read more here.
John Cooper, ACAP Information Officer, 28 December 2015