Harry Carter (Carter Biological Consulting, Victoria, British Columbia, Canada) and Spenser Sealy have written in the British Columbian journal Wildlife Afield on historical records of Vulnerable Short-tailed Albatrosses Phoebastria albatrus in North American waters.
The paper's abstract follows:
"We collated historical records of Short-tailed Albatross (Phoebastria albatrus) in British Columbia and Washington to better describe occurrence prior to 1958. The earliest records were obtained off the outer coasts of Washington and Oregon between 1841 and 1857. Almost annual occurrence in the Juan de Fuca Strait region from 1862 to 1896 was documented through 14 records of 20 individuals with sporadic observer effort. Only 1 record was recorded outside Juan de Fuca Strait at this time, west of Haida Gwaii in 1896. A massive reduction in the global population that once stood at over 1 million individuals occurred in the mid-1890s. From 1897 to 1907, sporadic occurrences likely occurred, based on a 1907 record in the Juan de Fuca Strait region and 1898 and 1904 records in California. The species was apparently absent from British Columbia, Washington, and the rest of the northeastern Pacific from 1907 to 1940, reflecting near extinction between 1920 and the 1950s. From 1940 to 1958, it was not reported in British Columbia and Washington but 4 records were obtained elsewhere in the northeastern Pacific. Beginning in 1958 in British Columbia (but not until 1993 in Washington), the species was again recorded sporadically, following limited recovery at breeding colonies. Since 1994, more observation effort indicated that Short-tailed Albatrosses occurred annually in British Columbia."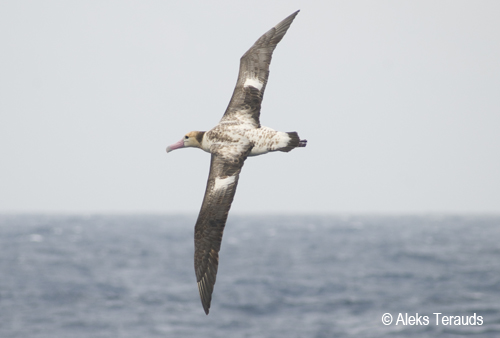 Short-tailed Albatross at sea, photograph by Aleks Terauds
With thanks to Ken Morgan for information.
Reference:
Carter, H.R. & Sealy, S.G. 2014. Historical occurrence of the Short-tailed Albatross in British Columbia and Washington, 1841–1958. Wildlife Afield 11: 24-38.
John Cooper, ACAP Information Officer, 17 December 2015