The corpse of a Northern Royal Albatross Diomedea sanfordi collected on the coast near Wellington, New Zealand last month had swallowed an entire Seal Shark Dalatias licha, with parts of the shark protruding from the bird's body.
A shortened account of the incident by Alan Tennyson of the Museum of New Zealand Te Papa Tongarewa follows:
"In the lab we were astounded to see a shark's tail protruding from its neck. When we cut the dead bird open we found that the shark was intact and reached the entire length of the bird's body cavity! The shark was completely undigested – no doubt it had been protected by its tough, sandpaper-like skin – and we speculate that the bird choked on the fish."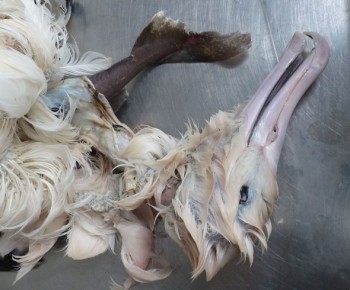 The shark's tail protrudes through a hole in the albatross' neck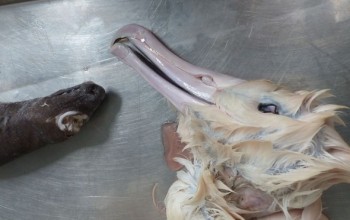 Northern Royal Albatross and Seal Shark after separation
Photographs by Alan Tennyson
"This was no ordinary looking shark – it was a seal shark, a worldwide species with a particularly vicious set of teeth distributed in a circular arrangement in its jaws. It uses these teeth for bandsawing chunks out of creatures as big as whales. We looked inside the shark's gut also but there was no evidence that it had been eating the albatross from the inside.
As seal sharks are a deep water species, we suspect that the hungry bird gulped down the shark which it found as waste from a trawler, and thus both bird and shark met an untimely end."
John Cooper, ACAP Information Officer, 09 December 2015