It has been a while since ACAP Latest News has come across any new (or for that matter old) poetry on ACAP-listed albatrosses and petrels (click here). Welcome then news that the Threatened Bird Network based in Australia ran a poetry competition back in September and that Shoshana Rapley won the competition with the following poem, entitled "Long Line".
Long Line
The albatross stands waiting
Upon bare cliff-top prow-
The night is swiftly closing-
Unyielding in her vow.
The amber frost horizon
Is dotted black with marks
Of many traveling wingbeats,
Pacing through the dark.
But which one holds the sceptre?
And which one holds the crown?
Where is her Royal nomad?
The sun sinks further down.
The sentinel waits stony-
Dusk washing feathers grey-
In the shrieking icy gale,
She braces briny spray.
To the callous sea she cries,
What secret do you know?
Entreaty plaintive, trembling,
On rock resounds her woe.
Wretched creature," booms the Sea,
Your love long hast been lost,
And never to you shall return,
For fishing lines he cross'd.
Like meat wrapped in butcher's string-
Contorted detainee-
Swiftly in death's gross weight sank
Like lead into the sea.
Albatross with skyward eyes,
Her beak to Southern Cross.
There she stays 'til stars retreat;
They care not for her loss.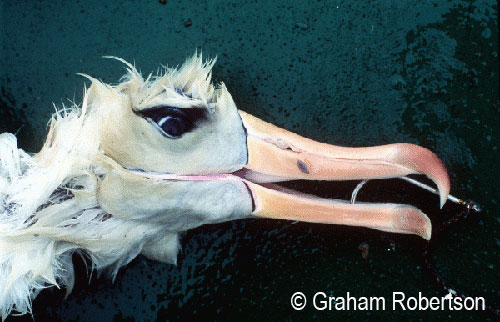 Lost to a longline hook, this Black-browed Albatross will not return home to its mate, photograph by Graham Robertson
TheThreatened Bird Network of BirdLife Australia is a community-based programme aimed at encouraging participation in urgent conservation tasks for threatened birds. Established in 1996 it continues to link the community with conservation of our threatened birds (click here).
With thanks to Barry Baker for information.
John Cooper, ACAP Information Officer, 29 November 2015