The Macquarie Island Pest Eradication Project (MIPEP) has received the Banksia Natural Capital Award this month for successfully ridding the island of its alien rodents and rabbits. Macquarie Island State Nature Reserve managed by theTasmanian Parks and Wildlife Service supports seven species of ACAP-listed albatrosses and petrels.
The Banksia Sustainability Awards were established to identify leading initiatives that work towards a more sustainable Australia. The Banksia judges considered MIPEP "has made a significant difference in the ecosystem, completely transforming a whole environment and is definitely a key example of a totally sustainable project."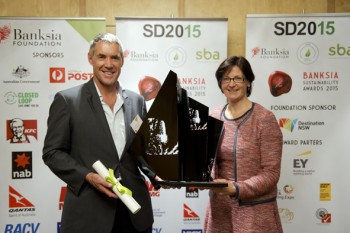 Keith Springer, MIPEP Manager receives the 2015 Banskia Award from Sasha Courville of the National Australia Bank
which sponsored the Natural Capital category
The award citation follows:
"Between 2007 and 2015 the Tasmania Parks and Wildlife Service undertook the world's largest island eradication project to remove all rabbits, ship rats and mice from World Heritage-listed Macquarie Island.
Located in the Southern Ocean halfway between New Zealand and Antarctica and 1,500 km from Hobart, Macquarie Island presented numerous challenges in terms of logistics, weather and field operating conditions. Rabbits and rodents had enormous impacts on the fragile environment of Macquarie Island, causing massive loss of vegetation, increased erosion on the steep coastal slopes, and predation on the eggs and chicks of burrowing seabirds.
Funding from the Tasmanian and Australian governments of $24.6M, and a donation of $100,000 from WWF-Australia and Peregrine Adventures, allowed implementation of the plan to eradicate the three invasive mammal species on Macquarie Island.
Intensive planning from 2007 to 2010 was required to obtain all regulatory approvals and complete the complex operational planning and procurement aspects required. After an initial release of the Rabbit Calicivirus, four helicopters spread rodenticide bait in the winter of 2011 across the entire island. This successfully eradicated mice and rats and removed the majority of surviving rabbits. Hunting teams using specially trained dogs then covered the island intensively for the next two and a half years, searching for and removing the few rabbits that remained. In all, hunting teams covered 92,000 km to ensure no rabbits or rodents survived.
Recovery of vegetation has been dramatic and seabird populations are now re-establishing on the island" (click here).
The Banksia Foundation, founded in 1989, is a national not-for-profit organisation which promotes environmental excellence and sustainability through its Awards programme and other associated initiatives.
Last month MIPEP received the Australian Institute of Project Management national achievement award in the Sustainable Projects category (click here).
With thanks to Keith Springer for information.
John Cooper, ACAP Information Officer, 24 November 2015