With a traditional Maori blessing ACAP-listed and Vulnerable Black Petrels Procellaria parkinsoni have been welcomed back to their breeding site on New Zealand's Great Barrier Island in the Hauraki Gulf from their wintering grounds off South America. The island is one of only two where the species breeds, the other being nearby Little Barrier.
"In celebrating their return to breed on Great Barrier and Little Barrier Islands, this seabird is getting some extra help from a group who are working to make the Gulf a safer place for them. The Black Petrel/tÄiko Working Group includes fishing, government and environmental interests and is working on practical ways to reduce the risk to these special birds from fishing. The Group's members include the three largest fishing companies in the Gulf, all who attended today's blessing and are committed to looking after these birds.
This summer, recreational organisations, fishing clubs and charter companies are spreading the word on how to fish safely around seabirds and fisheries officers are handing out information and providing other practical advice."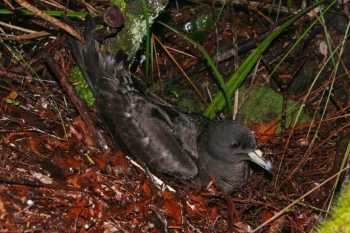 A Black Petrel on its breeding grounds, photograph by Dave Boyle
The Black Petrel Working Group is facilitated by the Southern Seabird Solutions Trust, a New Zealand conservation NGO. A Black Petrel Action Group, formed in 2011, can be followed on Facebook, its latest report is of the loss of two adult birds to a feral cat.
John Cooper, ACAP Information Officer, 22 November 205