Guidelines for Cooperation between ACAP and the International Commission for the Conservation of Atlantic Tunas (ICCAT) were agreed to this week at the 24th Regular Meeting of the ICCAT Commission, held in St. Julians, Malta over 10 to 17 November. The Guidelines follow the format of the Memoranda of Understanding (MoUs) that have been adopted with many other fisheries management bodies, including the four other tuna Regional Fishery Management Organizations (tRFMOs).
Because a number of substantive changes has been made to the MoU template approved by ACAP Parties, their approval will be required for the amended text before the Guidelines can be signed by the respective organisations. Support for adoption of the Guidelines was provided by ACAP Party Members attending the Commission meeting, which included Brazil, Uruguay, France (Overseas Territories), South Africa, Norway, and European Parties represented by the European Union, as well as Japan and the United States of America.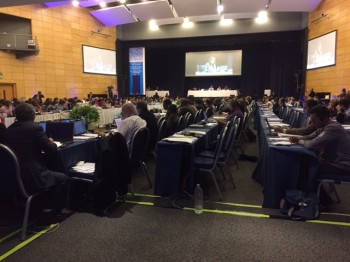 The meeting in progress, photograph by Warren Papworth
A range of other issues of relevance to the Agreement's work was discussed at the meeting including:
a DRAFT RECOMMENDATION BY ICCAT CONCERNING THE APPLICATION OF AN ECOSYSTEM APPROACH TO FISHERIES MANAGEMENT (PLE 119A/2015);
a DRAFT RECOMMENDATION BY ICCAT CONCERNING THE USE OF A PRECAUTIONARY APPROACH IN IMPLEMENTING ICCAT CONSERVATION AND MANAGEMENT MEASURES (PLE 120A/2015); and
a DRAFT RECOMMENDATION BY ICCAT TO ESTABLISH AN ICCAT SCIENTIFIC OBSERVER PROGRAMME WITHIN THE ICCAT CONVENTION AREA (PWG 409/2015).
Click here to access the above and other meeting documents and here for the ICCAT press release on the meeting.
ACAP was represented at the Commission meeting by its Executive Secretary, Mr Warren Papworth.
Warren Papworth, ACAP Executive Secretary, 20 November 2015