A goodly number of ACAP staffers and chief officers have been attending and contributing to the Second World Seabird Conference (WSC2) in Cape Town, South Africa this week.
As well as presenting a number of talks and a poster as listed by title and authors below, ACAP co-organized and led a session at WSC2 with the title "International Agreements and Seabird Conservation". The session's theme follows:
"Multilateral Environmental Agreements (MEA) such as the Convention on Biological Diversity, the Convention on Migratory Species, and the Agreement for the Conservation of Albatrosses and Petrels play key roles in defining national policy, legislation and targets for seabird and marine conservation. Ensuring that appropriate legislation is in place to tackle the threats and pressures acting on seabird populations is therefore of vital importance if conservation gains are to be made. The session will serve to demonstrate the main issues involved in trying to conserve seabirds on an international scale and aim to engage the wider seabird research community (especially those who have not been directly involved in the work of MEAs). The session will showcase examples of success within conventions, illustrating the challenges faced, progress achieved to date, and encourage greater engagement of seabird researchers in the future."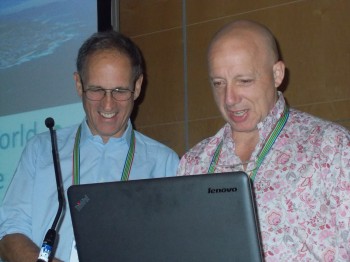 Mark Tasker (ACAP Advisory Committee Vice-Chair) & Marco Favero (ACAP Advisory Committee Chair and ACAP Executive Secretary Elect) confer at the podium before a session
ACAP presentations at WSC2 with their lead authors
Cooper, John. The Agreement on the Conservation of Albatrosses and Petrels: a growing resource for information on procellariiform research and conservation (poster).
Favero, Marco. Building a framework to prioritise conservation actions: the work of ACAP in facing land-based and at-sea threats to albatrosses and petrels.
Tasker, Mark. Working with governments and international organisations – experience from ACAP.
Wolfaardt, Anton. Bycatch issues – which agreements/conventions have a role to play.
Wolfaardt, Anton. Seabird bycatch in small-scale fisheries: an ACAP (Agreement on the Conservation of Albatrosses and Petrels) perspective.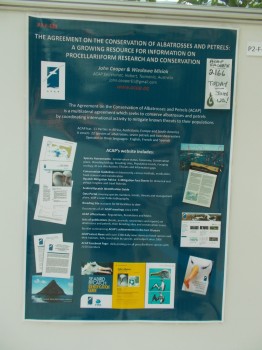 ACAP's poster at WSC2
Click here to access abstracts of the above presentations.
John Cooper, ACAP Information Officer, 30 October 2015