In 2006-07, an observer from the NGO SEO (BirdLife in Spain) participated in three fishing trips to the Gran Sol fishing ground west of the United Kingdom and detected worrying seabird bycatch rates. Each trip saw 48 to 141 birds caught, most of them recovered dead. The main species captured were Great Shearwater Puffinus (Ardenna) gravis, Northern or Arctic Fulmar Fulmarus glacialis, Black-legged Kittiwake Rissa tridactyla and Northern Gannet Morus bassanus.
"The Gran Sol hosts a fishing fleet that includes about 50 demersal longline vessels. The majority of them are from Spain. This fleet targets hake, using the traditional piedra-bola system (a line with hooks hanging of it regularly, which hangs near the bottom with alternating weights and buoys)."
BirdLife plans a workshop with the fleet before the end of the year to help assess the problem and to find effective solutions to minimise bycatch. According to SEO the Gran Sol fishers have already agreed to turn off the lights on deck at night, which has reduced the bycatch of seabirds 10 fold.
Read more on seabird mortality on the Grand Sol fishing ground.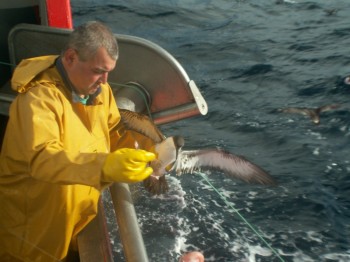 A Great Shearwater gets entangled on a Gran Sol longliner, photograph by Alvaro Barros, SEO
The European Commission has produced an EU Action Plan for reducing incidental catches of seabirds in fishing gears.
Reference:
European Commission 2012. Action Plan for Reducing Incidental Catches of Seabirds in Fishing Gears. Brussels: European Commission 16 pp.
John Cooper, ACAP Information Officer, 07 October 2015