European Storm Petrels Hydrobates pelagicus have been discovered breeding "for the first time in living memory" on the now rat-free islands of St Agnes and Gugh in the United Kingdom's Isles of Scilly. This news is reported in the latest issue of the 'Rat on a Rat' update of the Isles of Scilly Seabird Recovery Project, as well as in more detail in a press release.
"Three chicks have just been heard on St Agnes; two on Gugh. Back in July, as part of wider seabird surveys, adult 'stormies' were heard replying to taped calls. So in September, under cover of darkness and armed with head torches, audio recorders and a deal of patience, we went out again and this time caught the 'cheep cheep' of chicks. One fluffy chick was actually filmed in its nest site: head to our website and watch the footage."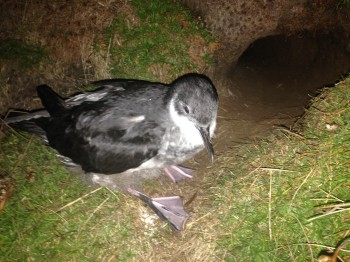 2014 Manx Shearwater chick on St Agnes and Gugh, photograph by Jaclyn Pearson
In addition 28 Manx Shearwater Puffinus puffinus chicks have been recorded in the second year after rat removal; last year the number was 10. Watch footage of Manx Shearwater chicks here.
The lessons learnt and successes achieved in the inhabited Isles of Scilly in eradicating Norway or Brown Rats Rattus norvegicus and the subsequent establishment of breeding populations of shearwaters and storm petrels bode well for the plans to eradicate rodents on other seabird islands with human populations, such as Australia's Lord Howe.
Read earlier ACAP Latest News items on the rat eradication exercise on the Isles of Scilly.
John Cooper, ACAP Information Officer, 18 September 2015