In July ACAP's Executive Secretary attended a meeting of the Common Oceans – Sustainable Management of Tuna Fisheries and Biodiversity Conservation in the Areas Beyond National Jurisdiction (The ABNJ Tuna Project) Steering Committee, held at the FAO Headquarters. The ABNJ Tuna Project is one of four projects that constitute the Common Oceans Program funded in part through the Global Environment Fund (GEF). The objective of the Project is to achieve responsibility, efficiency and sustainability in tuna production and biodiversity conservation in the ABNJ, through the systematic application of an ecosystem approach in tuna fisheries.
The project consists of four components:
Promotion of sustainable management of tuna fisheries in accordance with an ecosystem approach;

Strengthening and harmonizing monitoring, control and surveillance to address Illegal, Unreported and Unregulated (IUU) fishing;

Reducing ecosystem impacts of tuna fishing; and

Information and best practices dissemination and monitoring and evaluation.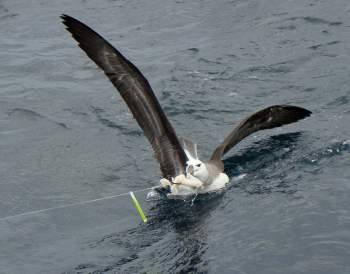 A juvenile Black-browed Albatross gets caught as it goes for a baited longline hook, photograph by Martin Abreu
ACAP is contributing to the third and fourth components of this project through the provision of information on best-practice bycatch mitigation measures to reduce the incidental bycatch of seabirds in tuna fisheries. This information will form a component of the Bycatch Management Information System (BMIS), whose objective is that 'Management decision making processes are enhanced and accelerated through access to all relevant material on bycatch management measures and practices in tuna fisheries.
This work will update and redesign the existing BMIS established by the Western and Central Pacific Fisheries Commission (WCPFC). Specifically, "The Bycatch Management (formerly 'Mitigation') Information System (BMIS) is being redeveloped as a global resource with funding provided through the Common Oceans ABNJ Tuna Project. It is proposed that the new look BMIS will present a broader range of material, particularly regarding the management of bycatch, e.g., bycatch species interaction rates and threats, population-level assessments, and national and international management schemes. Progress on bycatch data harmonisation, electronic reporting (e-reporting) and e-monitoring will be included. A new database platform will offer improvements in database stability, security and flexibility, and facilitate more efficient data entry, reference management and general administration. A new web interface will be required, given the proposed changes in the underlying database, as well as in scope and content. The redevelopment will enhance the role of the BMIS in building understanding of bycatch mitigation and management among those involved in tuna and billfish fisheries, thereby supporting the adoption and implementation of science-based management measures so that bycatch is managed comprehensively and sustainably (WCPFC/SC11-EB-IP-07)".
Warren Papworth, ACAP Executive Secretary, 31 August 2015