ACAP-listed and Critically Endangered Balearic Shearwaters Puffinus mauretanicus, along with other seabirds, are set to be counted from today by the Peniche Seabird Project as they fly past Cabo Carvoeiro on the tip of the peninsula at the Portuguese coastal city of Peniche north of Lisbon. The project aims for a complete coverage of systematic counts until mid-November this year.
The Peniche Seabird Project's website gives the scope of the project:
"The Peniche peninsula breaks off the Portuguese coast and functions as a migration obstacle for seabirds following the Iberian coast heading south to African waters in autumn. The seabirds have to round the peninsula and are therefore easy to observe in the right wind conditions. Off the peninsula lies the Berlengas Islands which hold internationally important numbers of breeding Cory's Shearwaters [Calonectris borealis] and Madeiran Petrels [Madeiran Storm Petrel Oceanodroma castro]. The waters off these islands are deep and rich in nutrients and are an added attraction to feeding seabirds. Despite these possibilities, the migration past Peniche is poorly documented compared to European migration watchpoints further north. The scope of this project is to document the numbers of seabirds migrating past Peniche during15th August – 15th November 2015. Particular attention will be paid to the Critically Endangered Balearic Shearwater. Seabirds will not just be counted, but flock sizes, flight directions and – where applicable – age categories will be quantified for later analysis."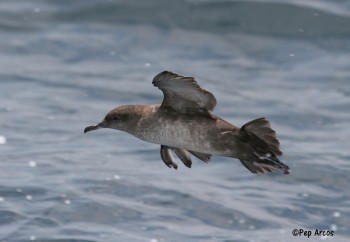 Balearic Shearwater at sea, photograph by Pep Arcos
The project is being managed by Helder Cardoso from Portugal and Erik Hirschfeld from Sweden, along with Johan Elmberg, also from Sweden, as scientific advisor (click here).
The project is looking for volunteers prepared to stay at least two weeks at Peniche to undertake "standardised counts of migrating birds from dawn until 10 am and from 3 pm to dusk each day, except for days with storms, when counting will have to take place for the full day." Transport to Peniche and free accommodation is on offer (click here).
ACAP Latest News aims to report on the project from time to time as information becomes available.
Across the water, Balearic Shearwaters are also the subject of a planned survey this month off the coast of southern England (click here).
John Cooper, ACAP Information Officer, 16 August 2015