Bioacoustics, including play-back of calls, have been used to assess the presence and population sizes of burrowing seabirds, including the ACAP-listed Procellaria petrels. An opportunity now exists to support such research by applying for a product grant from Wildlife Acoustics.
"Wildlife Acoustics' mission is to support efforts in conservation and environmental stewardship. We want to enable those involved in animal biology, research and conservation to do their best work easily and quickly. To that end, Wildlife Acoustics has established a grant program to support bioacoustics research efforts from chiropteran, avian, terrestrial, amphibious and marine wildlife, to everything else in between."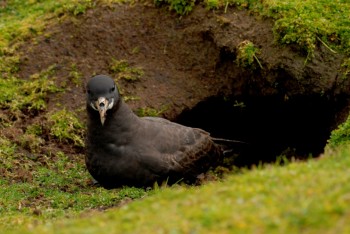 A White-chinned Petrel rests at the mouth of its burrow, photograph by Fabrice LeBouard
Every quarter, Wildlife Acoustics will be giving away up to US $5000 of product to grant recipients worldwide. Grant recipients must be biologists, researchers, conservationists or students associated with a charitable, educational or other tax-exempt/non-profit organization.
Consideration will be given to projects that meet the following criteria:
Project makes significant use of bioacoustics for data collection and/or analysis.
The work advances scientific knowledge and contributes to long-term conservation.
The grant award would have significant impact on the success of the project.
The grant request provides adequate information to evaluate the project, including detailed expected outcomes and use of bioacoustics data to support those outcomes.
The project should begin in the year that the application is submitted, or in the following year if the application is submitted in the off-season."
Click here for more details and information on how to apply: the next application deadline is 31 August.
John Cooper, ACAP Information Officer, 26 July 2015