Thomas Good (Conservation Biology Division, Northwest Fisheries Science Center, National Marine Fisheries Service, Washington, Seattle, USA) and colleagues have produced a report on the mortality of Short-tailed Albatrosses Phoebastria albatrus in longline fisheries.
The report's Executive Summary follows:
"In accordance with the National Marine Fisheries Service (NMFS) Biological Opinion (BiOp) on Continuing Operation of the Pacific Coast Groundfish Fishery, this document provides an analysis of observed bycatch and fleet-wide take estimates of U.S. Endangered Species Act (ESA)-listed short-tailed albatross (Phoebastria albatrus) in all sectors of the west coast groundfish fishery from 2010–2013. Short-tailed albatrosses are large, pelagic seabirds of the Order Procellariiformes with long narrow wings adapted for soaring just above the water surface. They are the largest of the three species of North Pacific albatrosses and are "continental shelf-edge specialists." Birds breed at 5-6 years of age; 25% of breeding age adults may forego breeding in a given year. Females lay single eggs, and chicks are fed by adults by surface feeding on squid, shrimp, fish, and fish eggs. Bycatch of short-tailed albatrosses in commercial fisheries continues to be a major conservation concern. From 1983 to 2009, eleven short-tailed albatross were documented in North Pacific groundfish fisheries. From 2010-2014, eight short-tailed albatross mortalities have been observed during commercial fishing activities, six in Alaska, one off Oregon, and one off Japan. On April 11, 2011, a short-tailed albatross mortality was documented in the limited entry sablefish fishery off the Oregon coast. Following this mortality in one of the Pacific Coast Groundfish Fisheries, the Pacific Fisheries Management Council adopted recommendations for seabird bycatch mitigation, requiring streamer lines be deployed during setting operations on commercial fixed gear vessels 55' (17 m) or greater in length; smaller vessels will not be required to use seabird bycatch avoidance measures under the current council action. Additionally, outreach efforts are increasing seabird bycatch awareness as well as voluntary use of seabird deterrents throughout the U.S. portion of the range of this species. Annual bycatch estimates varied as a function of hypothetical levels of seabird carcasses dropping off -before making it to observer sampling and varying estimates of the global short-tailed albatross population. The existing estimate for the global black-footed albatross population has not been updated since 2009 and could also influence these calculations if there has been a substantial change to that population estimate."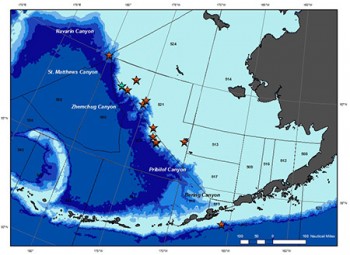 Mortality of Short-tailed Albatrosses at sea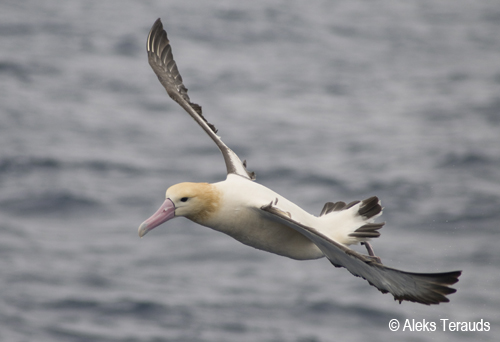 Short-tailed Albatross at sea, photograph by Aleks Terauds
Reference:
Good, T.P., Tuttle,V., Jannot, J., Shama , R., Riley,N. & McVeigh, J. 2015. Observed and Estimated Bycatch of Short-tailed Albatross in U.S. West Coast Groundfish Fisheries 2010-2013. 42 pp.
John Cooper, ACAP Information Officer, 28 June 2015