Shaogang Chu (Ecotoxicology and Wildlife Health Division, National Wildlife Research Centre, Environment Canada, Ottawa, Canada) and colleagues have published in the journal Chemosphere on pollutant levels in Black-footed Albatrosses Phoebastria nigripes.
The paper's abstract follows:
"The Great Pacific Garbage Patch (GPGP) is a gyre of marine plastic debris in the North Pacific Ocean, and nearby is Midway Atoll which is a focal point for ecological damage. This study investigated 13 C4–C16 perfluorinated carboxylic acids (PFCAs), four (C4, C6, C8and C10) perfluorinated sulfonates and perfluoro-4-ethylcyclohexane sulfonate [collectively perfluoroalkyl acids (PFAAs)] in black-footed albatross tissues (collected in 2011) from Midway Atoll. Of the 18 PFCAs and PFSAs monitored, most were detectable in the liver, muscle and adipose tissues. The concentrations of PFCAs and PFSAs were higher than those in most seabirds from the arctic environment, but lower than those in most of fish-eating water birds collected in the U.S. mainland. The concentrations of the PFAAs in the albatross livers were 7-fold higher than those in Laysan albatross liver samples from the same location reported in 1994. The concentration ranges of PFOS were 22.91–70.48, 3.01–6.59 and 0.53–8.35 ng g−1wet weight (ww), respectively, in the liver, muscle and adipose. In the liver samples PFOS was dominant, followed by longer chain PFUdA (8.04–18.70 ng g−1ww), PFTrDA, and then PFNA, PFDA and PFDoA. Short chain PFBA, PFPeA, PFBS and PFODA were below limit of quantification. C8–C13PFCAs showed much higher composition compared to those found in other wildlife where PFOS typically predominated. The concentrations of PFUdA in all 8 individual albatross muscle samples were even higher than those of PFOS. This phenomenon may be attributable to GPGP as a pollution source as well as PFAA physicochemical properties."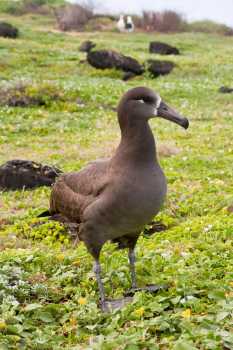 Black-footed Albatross, photograph by Lindsay Young
Reference:
Chu, S., Wang, J., Leong, G., Woodward, L.E., Letcher, R.J. & Li, Q.X. 2015. Perfluoroalkyl sulfonates and carboxylic acids in liver, muscle and adipose tissues of black-footed albatross (Phoebastria nigripes) from Midway Island, North Pacific Ocean. Chemosphere 138: 60-66.
John Cooper, ACAP Information Officer, 16 June 2105