The following shortened report by Jennifer Lee gives preliminary news of a recent survey of breeding Wandering Albatrosses Diomedea exulans on South Georgia (Islas Georgias del Sur)*.
"In early January a team of intrepid scientists and tourists embarked on a unique collaborative expedition to survey South Georgia's outlying wandering albatross colonies. The last island-wide survey took place in 2004 and showed a 30% decline since the survey in 1984.
The aim of the expedition was to visit all the known wandering albatross breeding sites outside of the large colonies at Bird Island and Annenkov Island. The population at Bird Island is surveyed each year but it is important to periodically visit smaller colonies to understand the trends in abundance and distribution on South Georgia as a whole. Logistic constraints meant it was not possible to visit Annenkov Island this year but a survey is planned for 2016.
Between January 9th and 20th 2015, scientists visited 25 sites from the Bay of Isles to Cape Disappointment. Counts ranged from having 34 wandering albatross nests with eggs at Cape Alexandra, to just a single pair at Mollyhawk Island. In the coming months the survey data from the South Georgia mainland will be combined with survey data from Bird Island and analysed more fully, but early indications are that populations are down approximately 15% from the survey in 2004. The decline matches with the annual trends that have been seen on Bird Island and give a clear indication that more work to save the wandering albatross is needed.
A major component of the population decline of this great ocean nomad is likely to be due to mortality associated with fisheries. Although in the last decade, no wandering albatross have been killed by vessels in South Georgia waters, the wide foraging range of this species means it is vulnerable to fisheries operating elsewhere in the South Atlantic and beyond."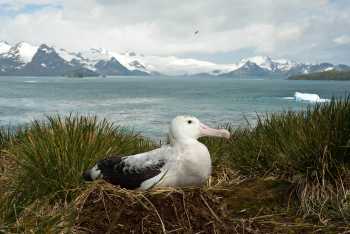 Wandering Albatross on Prion Island, photograph by Anton Wolfaardt
Click here to access the full news item and here for an earlier report in ACAP Latest News on the survey.
John Cooper, ACAP Information Officer, 15 May 2015
*A dispute exists between the Governments of Argentina and the United Kingdom of Great Britain and Northern Ireland concerning sovereignty over the Falkland Islands (Islas Malvinas), South Georgia and the South Sandwich Islands (Islas Georgias del Sur y Islas Sandwich del Sur) and the surrounding maritime areas.