Madeleine Pott (Island Conservation, Santa Cruz, USA) and colleagues have published in the journal Biological Conservation on bait trials for rodent eradications on tropical islands. One of the islands studied in the paper is Wake Atoll, a marginal breeding site for Laysan Albatrosses Phoebastria immutabilis (click here).
The paper's abstract follows:
"Rodent eradications undertaken on tropical islands are more likely to fail than eradications undertaken at higher latitudes. We report on 12 independent rodent eradication projects undertaken on tropical islands that utilized the results of an in situ bait availability study prior to eradication to inform, a priori, the bait application rate selected for the eradication. These projects also monitored bait availability during the eradication. The results from our analysis verified the utility of bait availability studies to future rodent eradication campaigns and confirmed the influence of two environmental factors that can affect bait availability over time: precipitation prior to the study and the abundance of land crabs at the study site. Our findings should encourage eradication teams to conduct in-depth assessments of the targeted island prior to project implementation. However, we acknowledge the limitations of such studies (two of the projects we reviewed failed and one removed only one of two rodent species present) and provide guidance on how to interpret the results from a bait availability study in planning an eradication. Study design was inconsistent among the twelve cases we reviewed which limited our analysis. We recommend a more standardized approach for measuring bait availability prior to eradication to provide more robust predictions of the rate at which bait availability will decrease during the eradication and to facilitate future comparisons among projects and islands."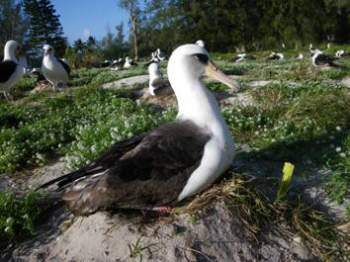 A breeding Laysan Albatross
With thanks to Mike Brooke for information.
Reference:
Pott, M., Wegmann, A.S., Griffiths, R., Samaniego-Herrera, A., Cuthbert, R.J., Brooke, M de L., Pitt, W.C., Berentsen, A.R., Holmes, N.D., Howald, G.R., Ramos-Rendón, K. & Russell, J.C. 2015. Improving the odds: assessing bait availability before rodent eradications to aid in selecting bait application rates. Biological Conservation 185: 27-35.
John Cooper, ACAP Information Officer, 13 May 2015