The following news release from the Facebook Page of the Friends of Hawaiian Islands National Wildlife Refuge reports on record numbers of Black-footed Phoebastria nigripes and Laysan P. immutabilis Albatrosses breeding on the USA's Midway Atoll in the North-Western Hawaiian Islands this year.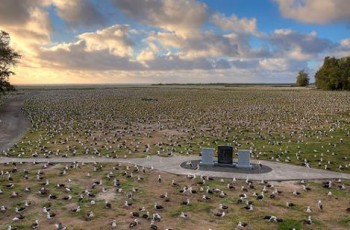 Large numbers of breeding Laysan Albatrosses on Midway in the 2014/2015 season
Photograph by Dan Clark
"Results from the recent annual nesting albatross census on Midway Atoll National Wildlife Refuge/Battle of Midway National Memorial within the Papāhānaumokuakea Marine National Monument confirm that Midway's nesting albatross colony is the largest in the world!!
Nineteen volunteers systematically covered the entire surface of the atoll's three small islands counting active nest sites from each of two species from December 11, 2014 through January 2, 2015.  Their final count resulted in over 1.39 million individual birds, assuming two adults per nest, for both Laysan and black-footed albatross species combined.
This year (hatch year 2015) far surpassed any previous documented year for nesting Laysan albatross on Midway Atoll with 666,044 pairs recorded.  The current count for Laysan albatross represents a 52% increase over the 2010-2014 average.  Black-footed albatross nesting pairs came in at 28,610 for the atoll, also a new record, up just over 18% from the 2010-2014 average.
For graphs, photos, and video of the count effort and albatross mating and nesting activity on Midway Atoll go to: https://www.flickr.com/…/usfwspacif…/sets/72157649901861280/".

Similarly record numbers of albatrosses are being reported from other breeding sites for these two North Pacific species, including at Kure Atoll (click here) and at Kaena Point on Oahu.
Lindsay Young of Pacific Rim Conservation reports to ACAP Latest News that during El Niño years, such as now (click here), the Transition Zone Chlorophyll Front (TZCF) moves closer to the Hawaiian Islands which means shorter commuting times for foraging birds.  As a consequence favourable oceanographic conditions may be causing fewer albatrosses to miss breeding by taking "sabbaticals" and perhaps also to some first-time breeders recruiting at a younger age.
With thanks to Lindsay Young, ACAP North Pacific News Correspondent for information.
John Cooper, ACAP Information Officer, 18 January 2105