The Animal series by Reaktion Books is described as the "first of its kind to explore the historical significance and impact on humans of a wide range of animals, each book in the series takes a different animal and examines its role in history around the world. The importance of mythology, religion and science are described as is the history of food, the trade in animals and their products, pets, exhibition, film and photography, and their roles in the artistic and literary imagination."
A total of 68 volumes has been announced to date (click here). The first book (alphabetically) in the series is fittingly "Albatross" by Graham Barwell, previously reviewed by ACAP Latest News (click here).
Three books in the series deal with widespread predatory mammals that have caused, and continue to cause, havoc on seabird islands to which they have been introduced: feral Domestic Cat Felis catus, rats Rattus spp. and the House Mouse Mus musculus.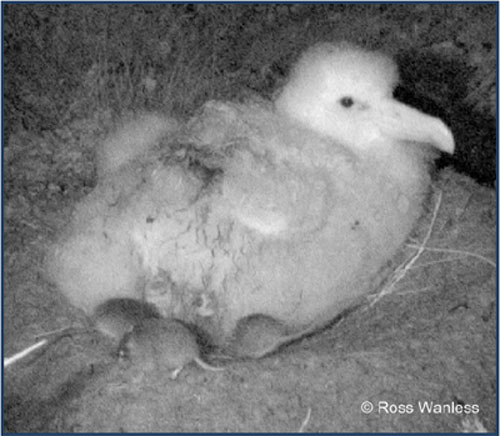 A Tristan Albatross chick under attack by mice at night on Gough Island
Photograph by Ross Wanless
"Mouse" by Georgie Carrol is due to be released next week. Readers of ACAP Latest News will know well of the ravages introduced House Mice are wreaking on the United Kingdom's Gough Island (click here), so I am expecting the plight of the island's near-endemic and Critically Endangered Tristan Albatross Diomedea dabbenena to be mentioned. Meanwhile here is a flavour of what to expect.
"From Mickey to Jerry to Pinky, mice have played an important role in our childhood cartoons and tales. Often a heroic figure in culture and fiction – mice are the iconic symbol of Disney – they are also considered one of the human race's greatest adversaries, responsible for disease and plague. Presenting a natural and cultural history of the mouse, this book explores the large role this diminutive animal plays in both the animal kingdom and human imagination." Should be a good read.
The series, edited by Jonathan Burt, who also wrote "Rat", includes volumes on the Cow, Dog, Fox, Hedgehog, Goat, Pig and Rabbit, but not yet on Reindeer, all of which have been introduced to more than one seabird island with harmful effect.
Oh yes, for those marine ornithologists who like non-flighted seabirds, there is a book in the series on penguins.
References:
Barwell, Graham 2014. Albatross. London: Reaktion Books. 208 pp.
Burt, Jonathan 2006. Rat. London: Reaktion Books 189 pp.
Carrol, Georgie 2014. Mouse. London: Reaktion Books 224 pp.
Dickinson, Victoria 2013. Rabbit. London: Reaktion Books. 216 pp.
Hinson, Joy 2014. Goat. London: Reaktion Books. 224 pp.
Martin, Stephen 2009. Penguin. London: Reaktion Books 198 pp.
McHugh, Susan 2004. Dog. London: Reaktion Books 232 pp.
Mizelle, Brett 2011. Pig. London: Reaktion Books. 224 pp.
Rogers, Katharine M. 2006. Cat. London: Reaktion Books 207 pp.
Velton, Hannah 2008. Cow. London: Reaktion Books. 207 pp.
Wallen, Martin 2006. Fox. London: Reaktion Books. 208 pp.
Warwick, Hugh 2014. Hedgehog. London: Reaktion Books. 216 pp.
John Cooper, ACAP Information Officer, 12 November 2014