Dr Ross Wanless of BirdLife South Africa's Seabird Conservation Programme received South Africa's Nick Steele Memorial Award as Environmentalist of the Year at the 26th Annual SAB (South African Breweries) Environmental Media and Environmentalist of the Year Awards held in Johannesburg earlier this month.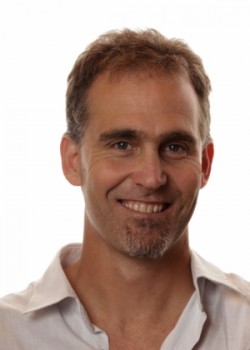 Ross Wanless...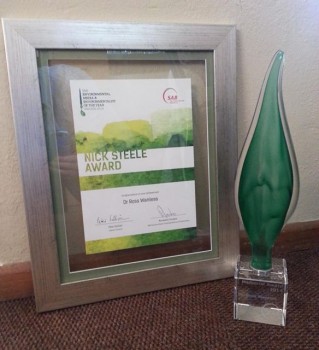 ...and his award
Nick Steele was a South African game warden and author who worked to protect rhinoceroses in the 1950s and 1960s in KwaZulu-Natal. Winners of the award are chosen from the top 10 finalists by a group of judges. The award comes with a cash prize of South African Rands 25 000.
BirdLife South Africa's Seabird Conservation Programme "has used science, advocacy, persistence and win-win solutions" to reduce mortality of albatrosses in South Africa's trawl fishery for hake Merluccius spp. by over 95% (click here).
"The SAB award recognises not just a lot of hard work over many years, but an individual who has been instrumental in delivering significant, lasting conservation outcomes. Very few conservation programmes can actually demonstrate tangible benefits for species they seek to conserve".
"It's a real honour to receive this sort of recognition, but I do need to acknowledge that I have an amazing team at BirdLife South Africa, and this award is theirs as much as mine", said Dr Wanless.
Ross was unable to receive the award in person, as he was then in South Korea running a workshop with the country's tuna longline fleet to assist it in adopting best-practice measures to avoid seabird mortality
BirdLife South Africa's seabird programme has already won two other prizes, one international awarded to staffer Bronwyn Maree, the other domestic, for its work in reducing albatross and petrel mortality in fisheries that has now been published in the journal Animal Conservation (click here).
Selected Literature:
Maree, B.A., Wanless, R.M., Fairweather, T.P., Sullivan, B.J. & Yates, O. 2014. Significant reductions in mortality of threatened seabirds in a South African trawl fishery. Animal Conservation doi:10.1111/acv.12126.
John Cooper, ACAP Information Officer, 31 October 2014