The Eighth Meeting of ACAP's Advisory Committee was held in Punta del Este, Uruguay last month. The meeting's final report is now available on line (click here).
Ten of the 13 Parties to the Agreement attended the meeting, which was chaired by Marco Favero of Argentina. In addition, three non-Party range states (Canada, Namibia and the United States of America) were present. Four NGOs attended as observers.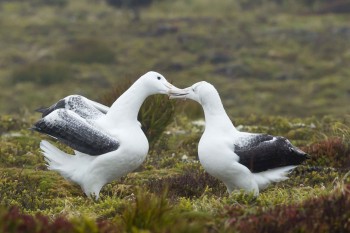 Southern Royal Albatrosses on Enderby Island, photograph by Barry Baker
The Eighth Meeting of the Advisory Committee was informed that the Government of Spain has offered to host the Fifth Session of the ACAP Meeting of the Parties in Santa Cruz, Tenerife, Canary Islands over 4-8 May 2015. This will be the first time that Spain will host a meeting of ACAP, when it will become the 12th Party to do so.
Reports of the meetings in Uruguay of the Advisory Committee's Population and Conservation Status and Seabird Bycatch Working Groups were considered by the Advisory Committee. They are available on line via the ACAP website's home page.
Other news from the meeting is that the current Executive Secretary, Warren Papworth will retire at the end of next year, engendering the need to appoint a new person to the position.
John Cooper, ACAP Information Officer, 21 October 2014