Kate Waterhouse has provided an update on the conservation status of the ACAP-listed and Vulnerable Black Petrel Procellaria parkinsoni in the latest newsletter of the Great Barrier Environmental Trust. The species breeds only on Great and Little Barrier Islands in New Zealand's Hauraki Gulf off North Island. Both island populations are at risk to interactions with fisheries and only Little Barrier is free of introduced predators.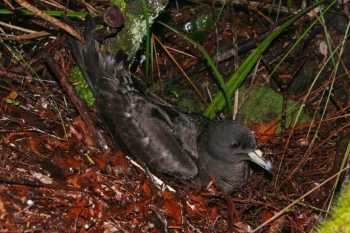 Black Petrel, photograph by David Boyle
A storm on Great Barrier earlier this year caused damage to the Black Petrel's breeding sites on the island (click here).
Click here for an earlier article on the Black Petrel by Kate Waterhouse in Great Barrier Environmental Trust Environmental News.
Reference:
Waterhouse, K. 2014. Dive, dig, fly thousands of miles. An update on our endangered Black Petrel. Great Barrier Environmental Trust Environmental News 33: 14-17.
John Cooper, ACAP Information Officer, 22 October 2014