It is now well known that the Critically Endangered Tristan Albatross Diomedea dabbenena is under serious threat from attacks on its chicks by "killer" House Mice Mus musculus on the United Kingdom's Gough Island, its major breeding site (at most one to two pairs breed annually on Inaccessible Island in the Tristan Group).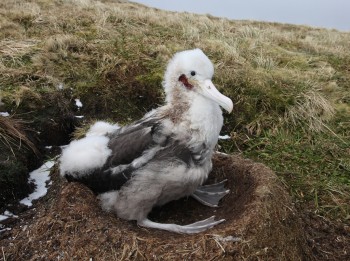 A Tristan Albatross chick shows signs of wounds inflicted by mice in 2013, photograph by Peter Ryan
During annual relief voyages to Gough Island each spring, a high priority is to count the Tristan Albatross chicks across the entire island to assess the year's breeding success. The results from this year's expedition, which returned to South Africa last week, are dire with only 9.8% of the eggs laid in January resulting in live chicks surviving to September.
According to Peter Ryan, Director of the University of Cape Town's FitzPatrick Institute and Expedition Leader "the albatross chick count of 163 in 2014 was the lowest total ever, giving an island-wide breeding success of below 10% for the first time. Annual chick production has fallen by more than 80% since the first island-wide count 15 years ago, confirming the serious impact mice are having on this species. As usual, the north of the island was particularly hard hit, but we weren't prepared for the magnitude of the impact there. In the lower-lying areas of West Point and GP Valley only two chicks survived out of more than 400 breeding attempts."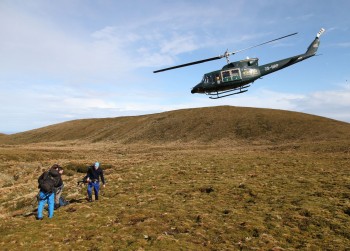 The 2014 counting party gets dropped by helicopter in GP Valley - with not a single Tristan Albatross chick in view
Photograph by Peter Ryan
Great albatrosses of the genus Diomedea should successfully raise chicks from 60-70% of breeding attempts, based on studies on islands where chicks are not attacked by rodents, six to seven times higher than the situation on Gough this year.
The Royal Society for the Protection of Birds (RSPB) has been studying the feasibility of eradicating Gough's mice by using helicopters to drop poison bait over the entire island (click here).
At its recent meeting in Uruguay the ACAP Advisory Committee agreed that the removal of introduced House Mice from Gough Island was a particularly high priority to help conserve the Tristan Albatross, as well as other ACAP-listed seabirds that breed on the island (click here).
Research on threatened birds on Gough Island is undertaken jointly by the FitzPatrick Institute and the RSPB with support from the Tristan Conservation Department and the South African Department of Environmental Affairs.
With thanks to Peter Ryan for information ansd photographs
John Cooper, ACAP Information Officer, 14 October 2014