Over the weekend between meetings of ACAP's working groups and Advisory Committee being held this month in Punta el Este, Uruguay, three brave north-hemisphere attendees went to sea after ACAP-listed seabirds in damp and misty weather.
José Manuel "Pep" Arcos (Spain), Beth Flint and Mi Ae Kim (both USA) went out for a few hours last Saturday on the tourist vessel Sea Warrior towards the offshore Isla de Lobos nature reserve (part of the Coastal Islands National Park) about eight kilometres south-east of Punta del Este where South American Sea Lions Otaria flavescens were observed.
In the vicinity of the island good views – and photographs – were obtained of both species of giant petrels Macronectes spp., but unfortunately no albatrosses were seen.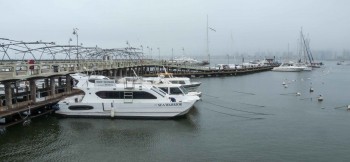 The Sea Warrior in the harbour at Punta del Este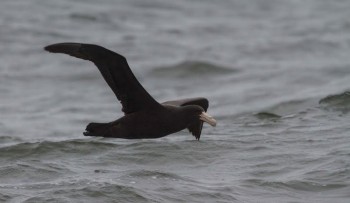 A juvenile Southern Giant Petrel flies by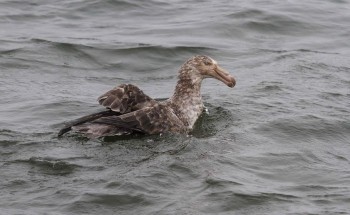 Northern Giant Petrel in the water
Photographs by Pep Arcos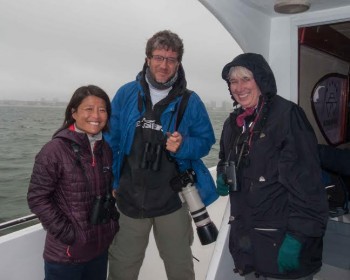 Mi Ae Kim, Pep Arcos and Beth Flint smile for the camera aboard the Sea Warrior
Photograph by Jordi Prieto
Southern Giant Petrels M. giganteus breed on the United Kingdom's Gough Island and on a few Argentinian islands (such as Isla Gran Robredo) in the South Atlantic but Northern Giant Petrels M. halli in Uruguayan waters would have to have come from islands in the Southern Ocean farther south.
With thanks to Pep Arcos and Jordi Prieto for the photographs and all three participants for information on their trip.
John Cooper, ACAP Information Officer, 16 September 2014