Last month, ACAP Latest News reported on plans to rid New Zealand's Great Mercury Island of its alien rats and cats (click here).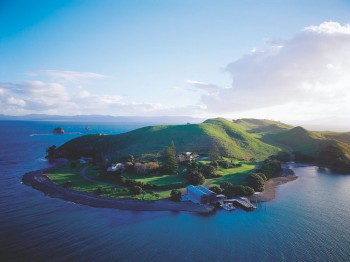 Great Mercury Island
News is in from the Department of Conservation that two aerial bait drops were successfully completed on Great Mercury last week (click here). Time will tell –in about two years' time - whether the island has become rat free, helping its breeding Grey-faced Petrels Pterodroma macroptera gouldi.
The Mercury Islands are a group of seven islands eight kilometres off the north-east coast of the North Island of New Zealand. The six smaller islands in the group are rodent free after eradication operations between 1987 and 1997 removed Pacific Rats Rattus exulans. They have been identified as an Important Bird Area by BirdLife International because they support up to 3000 breeding pairs of Pycroft's Petrels Pterodroma pycrofti, as well as Little Shearwaters Puffinus assimilis. Removing rats from Great Mercury will help with biosecurity for the rest of the island group: all rat-free seabird islands.
"Removing the rats and feral cats from the island involved precisely targeted aerial applications of bait using specially designed buckets carried by helicopter. The helicopter pilots use satellite navigation (GPS) technology to ensure the bait is spread only where intended."
This year marks 50 years since the first New Zealand island was made pest free. Ruapuke/ Maria Island was declared pest free in 1964 after the successful removal of Norway Rats Rattus norvegicus.
Read more on the Great Mercury operation here.
John Cooper, ACAP Information Officer, 17 August 2014