Twenty-four Endangered Northern Royal Albatross Diomedea sanfordi chicks were recently colour banded at Tairaoa Head, New Zealand's only mainland albatross breeding site (click here).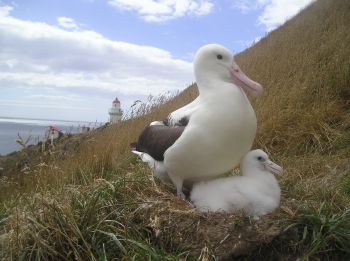 A Northern Royal Albatross stands guard over its chick at Taiaroa Head
Photograph by Lyndon Perriman
"The 2013/14 breeding season has been the Royal Albatross Centre's second most successful natural breeding season ever! We are looking forward to similar results next year. There has been well over 100 albatross seen flying around the headland recently and all of the current nests are fit, healthy and ready to take the leap of faith off Taiaroa Head to begin their life at sea."
Click here to read more about Tairaoa Head's albatrosses.
John Cooper, ACAP Information Officer, 2 August 2014