BirdLife International has this week released its taxonomic review of the World's non-passerine birds, including seabirds, on behalf of the World Conservation Union's Red Data List (click here). This gives an opportunity to assess the current conservation status of the 30 ACAP-listed species.
All of the World's 22 species of albatrosses remain threatened (Critically Endangered, Endangered or Vulnerable) or Near Threatened in the new listing; none is categorized as Least Concern (click here).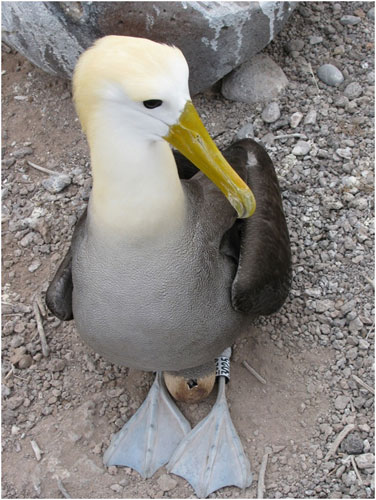 Waved Albatross: still Critically Endangered, photograph by Kate Huyveart
A similar situation exists for the five species of Procellaria Petrels with four categorized as Vulnerable and only one, the Grey Petrel P. cinerea, being accorded the status of Near Threatened (although recategorization as Vulnerable has been proposed for this species). In contrast, the two giant petrels Macronectes spp., remain as Least Concern. The 30th ACAP-listed species, the Balearic Shearwater Puffinus mauretanicus, continues to be Critically Endangered (click here).
Two species of shearwaters that have been proposed for ACAP listing retain their threatened status: the Pink-footed Shearwater P. creatopus of Chile (Vulnerable) and the Yelkouan Shearwater P. yelkouan of the Mediterranean (Vulnerable).
The 2014 listing includes some "new" species of seabirds due to taxonomic splitting, such as the Desertas Petrel Pterodroma deserta of the Macaronesian Island of Bugio, coming in as Vulnerable. However, other newly-described or recognized species, such as Bryan's Shearwater Puffinus bryani and the Pincoya Storm Petrel Oceanites pincoyae have not as yet been included on BirdLife's RDB list.
ADDED NOTE:
Bryan's Shearwater does appear on the IUCN official list (2014.2) as Critically Endangered (click here). The Pincoya Petrel appears as Data Deficient (click here).
John Cooper, ACAP Information Officer, 25 July 2014