The Eighth Meeting of the Advisory Committee (AC8) of the Agreement on the Conservation of Albatrosses and Petrels (ACAP) will be held from Monday, 15 September to Friday, 19 September 2014, at the Barradas Hotel, Punta del Este, Uruguay (click here).
This will be the first time ACAP has met in Uruguay. Previously it has met in all the other South American countries which are Parties to the Agreement: Argentina, Brazil, Chile, Ecuador and Peru.
Meetings of the Advisory Committee's Population and Conservation Status Working Group (PaCSWG) and Seabird Bycatch Working Group (SBWG) will precede AC8. These meetings will also be held at the Barradas Hotel, from Monday 8 to Tuesday 9 September (PaCSWG), and Wednesday 10 to Friday 12 September (SBWG). A Heads of Delegation meeting will be convened on Sunday, 14 September 2014 in the evening.
Meeting documents for AC8 and its working groups will appear prior to the meetings in Punta del Este on this web site. A glimpse at the provisional agenda for the Advisory Committee reveals that as well as considering reports of the working groups (including of its Taxonomy Working Group) it will also consider any proposals brought forward by Parties to list new species within the Agreement.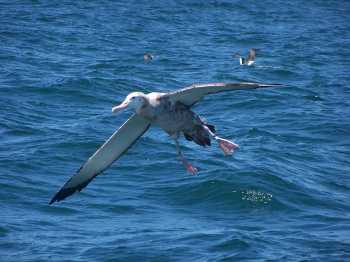 Tristan Albatross in Uruguayan waters, photograph by Martin Abreu
A key task for this meeting will be to prepare a summary report on Parties' progress with implementation of the Agreement. Because this report will mark the 10-year anniversary of the Agreement coming into effect it is an important milestone and an opportune time to reflect on the achievements made by Parties in improving the conservation status of albatrosses and petrels.
Reports on current work programmes and those proposed for the next triennium for both Advisory Committee and Secretariat will also be reviewed, for consideration and adoption by Parties at the next Session of the Meeting of ACAP Parties due to be held in 2015.
John Cooper ACAP Information Officer, 21 July 2014