Despite valiant efforts to eradicate them World-wide, rodents continue to threaten seabirds at their breeding islands, with the House Mice Mus musculus of Gough and Marion Islands that attack albatross and burrowing petrel chicks being significant examples (click here). New Zealand has been a World leader in successfully eradicating introduced rodents from islands, now to be recognized at a one-day symposium to be held in Auckland this September (click here).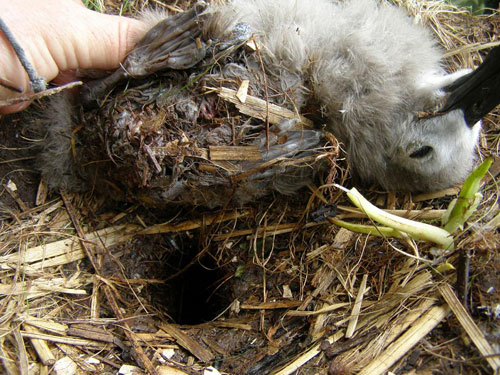 Sooty Albatross chick killed by House Mice on Gough Island, photograph by Paul Visser
"In 2014 New Zealand celebrates 50 years of rodent eradications, following the confirmation of successful eradication of Norway Rats [Rattus norvegicus] from Maria Island in 1964 by the with assistance from Don Merton, and a grant of 5 pounds from the Wildlife Service. At that time only 0.5% of New Zealand's islands were predator-free but today that percentage has increased to 10%, due to the pioneering efforts of staff in the NZ Wildlife Service and then Department of Conservation, supported by volunteers and community groups. Much has changed in those fifty years, including the landmark use of helicopters to deliver bait aerially, and the knowledge export of rodent eradications to other islands across the globe.
To celebrate these 50 years the Centre for Biodiversity and Biosecurity, University of Auckland and partners are hosting a symposium on rodent eradications to be held 10 September 2014 at the University of Auckland. The full-day symposium will consist of a series of talks by those involved at the time in pioneering eradications, presenting a retrospective of the eradication operation at the time, the benefits to the island today, and looking forward to the future of island conservation and rodent eradication. Registration is free and the symposium will be accessible to a general audience."
Click here to register.
For a brief history of rodent eradications in New Zealand click here.
John Cooper, ACAP Information Officer, 25 June 2014